Tephrocactus alexanderi was first described in 1923 as Opuntia alexanderi.
Scientific Name
Tephrocactus alexanderi (Britton & Rose) Backeb.
Synonym(s)
Opuntia alexanderi, Tephrocactus alexanderi subsp. alexanderi
Scientific Classification
Family: Cactaceae
Subfamily: Opuntioideae
Tribe: Tephrocacteae
Genus: Tephrocactus
Description
Tephrocactus alexanderi is a small, shrubby cactus with numerous light-green or ashy, spherical stem segments with rhomboid, spirally arranged tubercles. The fragile stem segments can reach 2 inches (5 cm) in diameter. The areoles at the top of the tubercles are gray and round, each bearing 4 to 14 spines and many pinkish-yellow glochids in the center. One to six spines are transparent, appressed, and measure up to 0.8 inches (2 cm) long, while the others are stronger, straight to slightly curved, white to grey or bluish, and measure up to 1.6 inches (4 cm) long.
During the summer, the plant produces large, white to pink flowers at the tips of the higher-up stem segments. The flowers can reach a diameter of 2.8 inches (7 cm) at the full opening. The pericarpel is green, shaped like a reversed cone, densely covered with spines and glochids, and measures 0.4 (2 cm) long and 0.6 inches (1.5 cm) in diameter. The fruits are spiny, obovoid, ash-green, about 1 inch (2.5 cm) long and 0.6 inches (1.5 cm) in diameter, and contain many light brown seeds.
Origin
Tephrocactus alexanderi is native to Argentina. It grows on rocky slopes in Catamarca, La Rioja, San Juan, and San Luis provinces.
Etymology
The specific epithet "alexanderi (al-eks-AN-der-ee)" honors Edward J. Alexander (1901-1985), an American botanist and curator of the herbarium at the New York Botanical Garden.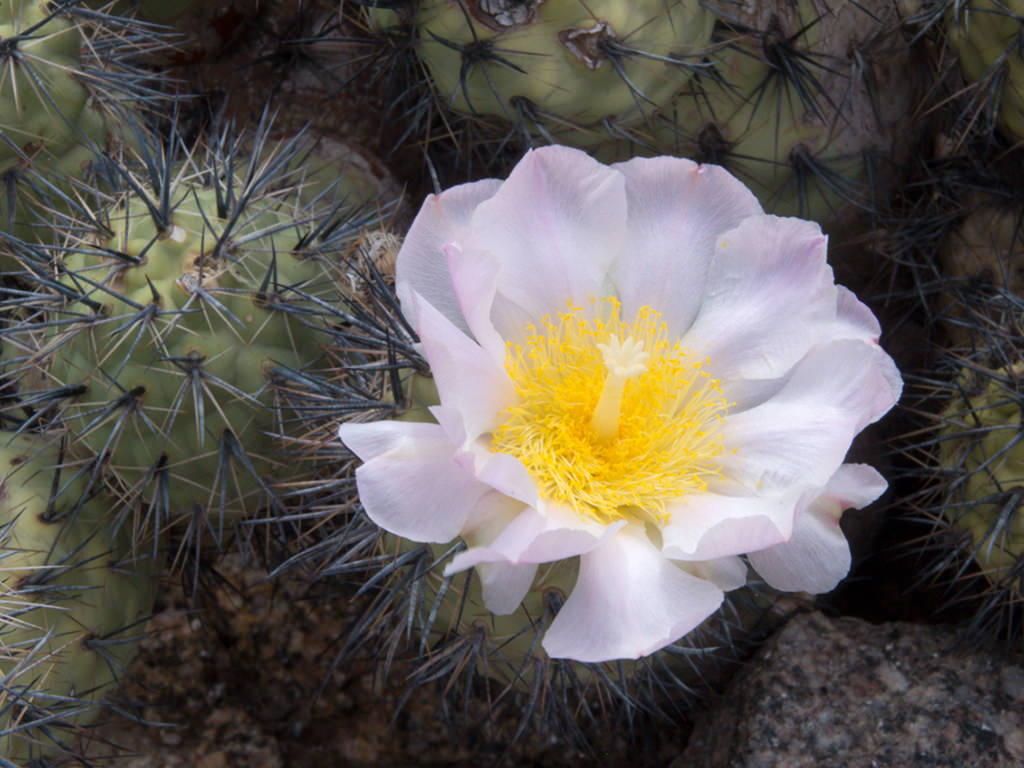 How to Grow and Care for Tephrocactus alexanderi
Light: Tephrocactus alexanderi thrives in full sun, but some shade during midday and afternoon can prevent sunburn during summer. A window that receives sunlight 6 hours a day works best when grown indoors.
Soil: This cactus requires a soil mix that drains well. So, use a commercial cactus potting mix or create your own.
Temperature: Extremely tolerant of high temperatures, Tephrocactus alexanderi prefers cooler temperatures in winter. It grows best in USDA Plant Hardiness Zones 9a to 11b, with average minimum winter temperatures ranging from 20 to 50 °F (-6.7 to 10 °C).
Watering: From spring to fall, water moderately and let the soil dry out completely before watering again. In most areas, rainfall will be enough for established plants. If potted, never let the container sit in water. During the winter, suspend the watering.
Fertilizing: Tephrocactus alexanderi does not need fertilizer when planted in the ground. However, when grown in a container, the plant will benefit from water-soluble fertilizer during the growing season. Suspend the feeding during the winter when it goes dormant.
Repotting: Repot only when the cactus becomes potbound or is too large and unstable in its container. Choose a slightly larger container with drainage holes at the bottom. The best time for repotting is late winter or early spring.
Propagation: You can propagate Tephrocactus alexanderi by stem segments or seeds. Using stem segments is the easiest method and yields faster results. For best results, take stem segments in early summer. Sow the seeds in late spring.
Learn more at How to Grow and Care for Opuntia.
Toxicity of Tephrocactus alexanderi
Tephrocactus alexanderi is not toxic to humans or pets. However, keep the plant away from pets and children as it has harmful spines and glochids that may cause skin irritation.
Links
Photo Gallery
Click on a photo to see a larger version.