Sedum ternatum is a low-maintenance groundcover that can thrive in shady and moist environments as well as typical Sedum habitats.
Scientific Name
Sedum ternatum Michx.
Common Name(s)
Three-leaved Stonecrop, Whorled Stonecrop, Wild Stonecrop, Woodland Stonecrop
Synonym(s)
Anacampseros ternata, Clausenellia ternata, Sedum americanum
Scientific Classification
Family: Crassulaceae
Subfamily: Sempervivoideae
Tribe: Sedeae
Genus: Sedum
Description
Sedum ternatum is a succulent plant that grows close to the ground and spreads by creeping stems, often forming a mat. It is finely papillose in all parts. The stems have few branches with terminal rosettes of fleshy leaves arranged in whorls of 3, rarely 2 or 4. The leaves are flat, obovate to elliptic, sometimes with small rounded teeth on the edges, and measure up to 0.8 inches (2 cm) long and 0.4 inches (1 cm) broad. The color of the leaves ranges from pale yellow-green to dark green. When exposed to intense sunlight, the leaves can turn brown.
During springtime, the plant produces star-shaped flowers in cymes with three branches on erect stalks rising above the foliage. The flowers usually have four pale yellow-green sepals and four white petals. The anthers of the flowers are either red or purple. The fruits are beaked capsules with dark-brown seeds and split open when ripe.
Origin
Sedum ternatum is native to the eastern United States. It grows on rocks, cliffs, and woods at elevations that range from 165 to 5,580 feet (50 to 1,700 m), from Arkansas and Iowa, south down the Appalachian Mountains, and north to near the border with Canada.
Etymology
The specific epithet "ternatum (ter-NAY-tum)" means "ternate; arranged in threes" and refers to the whorled leaves.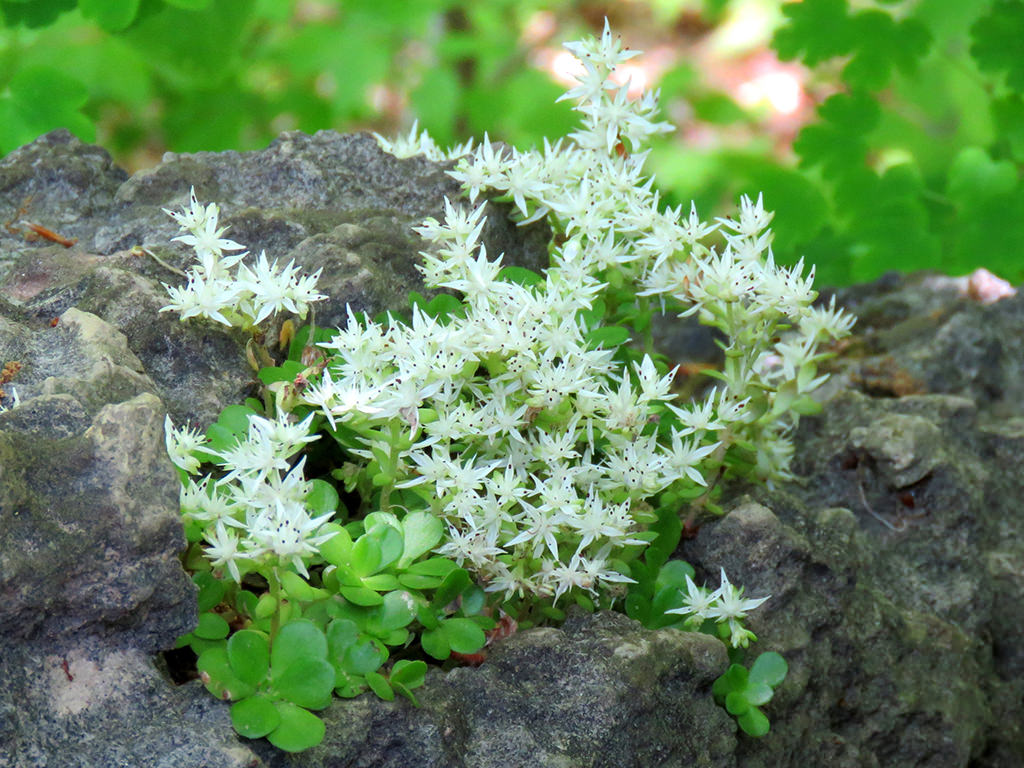 How to Grow and Care for Sedum ternatum
Light: Light: Sufficient light is most important to growing a healthy plant. Sedum ternatum grows best in locations where it will enjoy the full sun for at least six hours daily but will tolerate some shade. Place the plant near a sunny window or use artificial lights when growing indoors.
Soil: This plant does not like to sit in waterlogged soil, so drainage is essential to prevent root rot. Use a commercially available mix for succulents, or create your own.
Temperature: Sedum ternatum has a good tolerance to heat and low temperatures. It grows best in USDA Plant Hardiness Zones 4a to 9b, with average minimum winter temperatures ranging from -30 to 30 °F (-34.4 to -1.1 °C).
Watering: From spring through fall, water thoroughly and wait for the soil to dry out before watering again. During the winter, water the plant just enough to keep it from shriveling. When watering, avoid wetting the leaves, stems, and flowers.
Fertilizing: Feed a water-soluble fertilizer diluted to half the recommended strength during the growing season. However, feeding is unnecessary if you provide the plant with fresh soil annually.
Repotting: When Sedum ternatum outgrows its current pot, repot it into a larger one during the spring. Make sure the soil is dry before you begin repotting.
Propagation: Once you have one Sedum ternatum, it is easy to make more by taking leaves or stem cuttings and dividing the plant. It is also easy to start from seeds in spring or summer. Take cuttings in spring and divide the plant after it has finished flowering.
Learn more at How to Grow and Care for Sedum.
Toxicity of Sedum ternatum
Sedum ternatum is not listed as toxic for people but can be mildly toxic to pets and children.
Links
Photo Gallery
Click on a photo to see a larger version.