Scientific Name
Schlumbergera truncata (Haw.) Moran
Common Name(s)
Claw Cactus, Crab Cactus, False Christmas Cactus, Holiday Cactus, Linkleaf, Thanksgiving Cactus, Yoke Cactus
Synonym(s)
Cactus truncatus, Cereus truncatus, Cereus truncatus var. altensteinii, Epiphyllum altensteinii, Epiphyllum bridgesii, Epiphyllum delicatum, Epiphyllum elegans, Epiphyllum guedneyrii, Epiphyllum purpurascens, Epiphyllum ruckeri, Epiphyllum ruckerianum, Epiphyllum salmoneum, Epiphyllum smithianum, Epiphyllum truncatum, Epiphyllum truncatum var. altensteinii, Epiphyllum truncatum var. bridgesii, Epiphyllum truncatum var. wagneri, Epiphyllum truncatum var. wagneri, Epiphyllum violaceum, Schlumbergera bridgesii, Schlumbergera truncata subsp. delicata, Schlumbergera truncata var. altensteinii, Schlumbergera truncata var. delicata, Zygocactus altensteinii, Zygocactus bridgesii, Zygocactus delicatus, Zygocactus truncatus, Zygocactus truncatus var. delicatus
Scientific Classification
Family: Cactaceae
Subfamily: Cactoideae
Tribe: Rhipsalideae
Genus: Schlumbergera
Origin
The native range of this species is southeast Brazil. It occurs only in a small area of the coastal mountains in the state of Rio de Janeiro at altitudes between 2,300 and 3,300 feet (700 and 1,000 m), usually growing on trees (epiphytic) or rocks (epilithic).
Description
Schlumbergera truncata is a popular much-branched cactus with dark green stems composed of smooth flattened segments with three or four soft points on the margins. The stems (cladophylls) resemble crab claws, hence the common name "Crab Cactus." Stem segments (phylloclades) are up to 2.4 inches (6 cm) long and up to 1.4 inches (3.5 cm) wide. Areoles with few bristles are located at the notches on margins and the end of the segments from which flower buds appear. The attractive flowers are tubular up to 3.2 inches (8 cm) long and up to 2.4 inches (6 cm) across. They appear at the stem ends and joints in fall and winter, usually around Thanksgiving, hence the common name "Thanksgiving Cactus." The "petals" are actually tepals, and they are in various colors, including shades of red, purple, pink, orange, and white. Fruits are red when ripe, pear-shaped, about 1.2 cm (0.5 in) long, and contain shiny black seeds.
Etymology
The specific epithet "truncata (trunk-AH-tuh)" means "maimed, mutilated" and refers to the notches on the margins. It is the feminine form of "truncatus," the perfect passive participle of the Latin verb "trunco."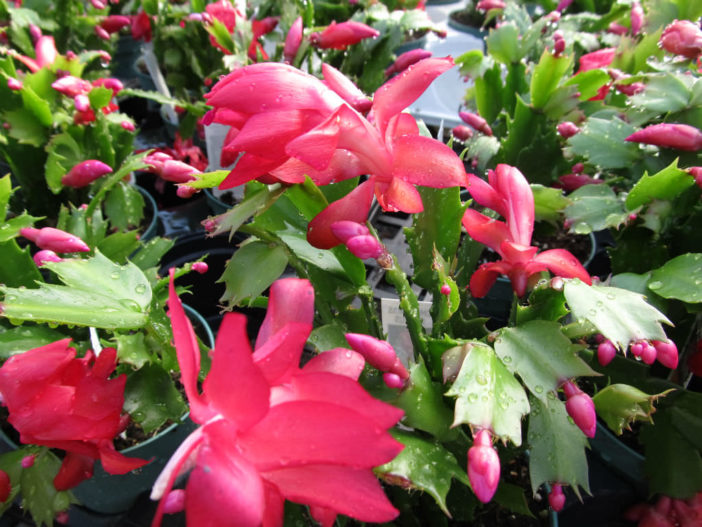 Hardiness
USDA hardiness zones 10a to 11b: from 30 °F (−1.1 °C) to 50 °F (+10 °C).
How to Grow and Care
These plants are easy to grow and are often passed down through the generations. With Holiday Cactus, the million-dollar question isn't how to grow it but how to make it bloom. With a little extra attention during the fall months, you can have your plants blooming for the holidays. Don't expose these plants to freezing temperatures! Despite their love of cooler temperatures, they are still tropical plants that won't withstand freezing conditions. They like about 50% to 60% humidity, which can be achieved using a pebble tray. Never place your Holiday Cactus near a heat register, exterior door, or drafty window, and keep it out of burning sunlight.
Don't fall into the trap of constantly repotting into a bigger pot. Holiday Cactus likes to be root-bound, and repotting every 2 to 3 years (even back into the same pot) is plenty. If you repot, use sterile well-draining potting soil.
Holiday Cactus can easily be propagated by cuttings. First, pinch off a stem section with 2 to 3 jointed segments. Let the cuttings dry for a few hours, then push them into a small pot with the same planting mix as the adult plant.
See more at How to Grow and Care for Holiday Cactus.
Hybrids
Links
Photo Gallery
Click on a photo to see a larger version.