Parodia microsperma is a highly variable species in the shape, spination, and color of spines and flowers, and many names have been published.
Scientific Name
Parodia microsperma (F.A.C.Weber) Speg.
Common Name(s)
Tom Thumb
Synonym(s)
Echinocactus microspermus, Hickenia microsperma
Scientific Classification
Family: Cactaceae
Subfamily: Cactoideae
Tribe: Notocacteae
Genus: Parodia
Description
Parodia microsperma is small cactus with stems that have spirally arranged tubercles into 13 to 21 ribs, each with a cluster of spines at the tip. It usually grows solitary, but it may produce a few offsets at the base as it ages. The stem is spherical when young, later sometimes becoming cylindrical, and can reach a height of 8 inches (20 cm) and a diameter of 4 inches (10 cm). Each areole bears 4 central and 7 to 30 radial spines. The central spines are reddish or brownish, 0.2 to 0.8 inches (0.5 to 2 cm), rarely up to 2 inches (5 cm) long, with the lowermost being the longest and hooked at the apex. The radial spines are white, bristle-like, and up to 0.3 inches (0.8 cm) long.
During the summer, this cactus produces yellow, orange, or red flowers at the top of the stem. The funnel-shaped flowers are up to 1.4 inches (3.5 cm) long and 2 inches (5 cm) in diameter. The fruits are nearly spherical, up to 0.2 inches (0.5 cm) in diameter, with basal dehiscence, and contain tiny brown seeds.
Origin
Parodia microsperma is native to northern Argentina and southern Bolivia.
Etymology
The specific epithet "microsperma (my-kro-SPERM-uh)" means "small-seeded" and refers to the tiny seeds of the species, which are only 0.015 (0.5 mm) in diameter.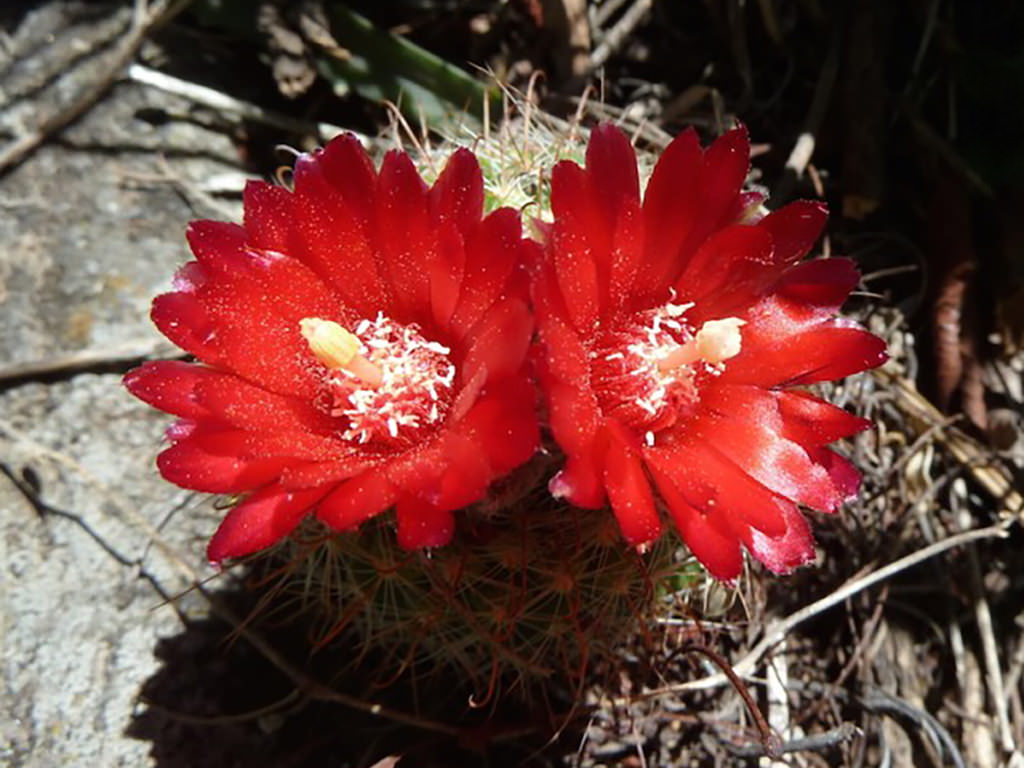 How to Grow and Care for Parodia microsperma
Light: Generally, Parodia microsperma can handle morning and afternoon direct sun, but it prefers partial shade during midday. So, place the plant outdoors anywhere it can receive bright indirect sunlight. When growing indoors, choose a sunny windowsill and rotate the pot every two weeks to encourage balanced growth. However, move it outdoors in the spring, if possible.
Soil: Soil with good drainage is crucial for a healthy plant. Therefore, use commercial soil for cacti or make your own well-draining mix with mineral grit such as coarse sand, perlite, or pumice.
Hardiness: This cactus thrives in warm, desert-like conditions but will not survive a hard frost. So, if there is a risk of freezing temperatures, it is best to plant it in a container that can be brought indoors. Parodia microsperma grows best in USDA Plant Hardiness Zones 9b to 11b, with average minimum winter temperatures ranging from 25 to 50 °F (-3.9 to 10 °C).
Watering: During the growing season, water deeply, but allow the soil to dry out to the touch between waterings. When it goes dormant during the winter, the plant needs much less water than usual. Therefore, water sparingly.
Fertilizing: While not necessary, Parodia microsperma will respond well to a low-balanced soluble fertilizer diluted to half the recommended strength. However, suspend feeding in winter.
Repotting: If growing this cactus in a container, repot as needed from spring to early summer, but ensure the soil is dry before you start, and always pot it in a container with drainage holes.
Propagation: Since it rarely produces offsets, Parodia microsperma is usually propagated by seeds. For best results, sow the seeds in spring.
See more at How to Grow and Care for Parodia.
Toxicity of Parodia microsperma
Parodia microsperma is non-toxic to humans or animals.
Forms of Parodia microsperma
Links
Photo Gallery
Click on a photo to see a larger version.