Scientific Name
×Pachyveria 'Ruth'
Synonym(s)
×Pachyveria 'Rough'
Scientific Classification
Family: Crassulaceae
Subfamily: Sempervivoideae
Tribe: Sedeae
Nothogenus: ×Pachyveria
Origin
×Pachyveria 'Ruth' is an intergeneric hybrid by Jocelyn Ainsworth of Darkes Forest, New South Wales, Australia, who liked to name her hybrids after ladies. The parentage is unknown.
Description
×Pachyveria 'Ruth', also sold as ×Pachyveria 'Rough', is a strong and beautiful succulent that forms compact rosettes of thick, pointed leaves with smooth surfaces. The rosettes grow to 6.4 inches (16 cm) in diameter and produce offsets to form a dense clump. Depending on the season and growing conditions, the pastel sea green leaves can take on red, brown, and purple hues. They have a light coating of powdery wax.
In spring, the plant produces reddish, bell-shaped flowers on arching stalks with a few easily detached bracts the same color as the leaves.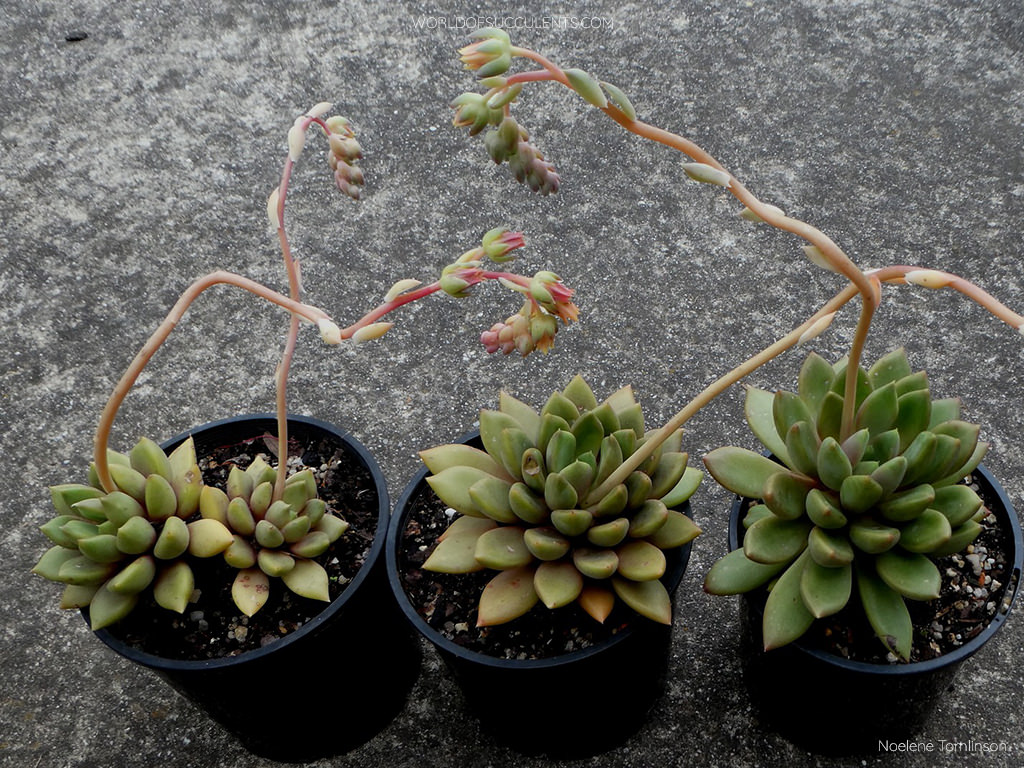 How to Grow and Care for ×Pachyveria 'Ruth'
Light: ×Pachyveria 'Ruth' grows best in full sun to partial shade. If you move the plant outside in the spring, do it gradually, as the intense afternoon sun can cause sunburn. Indoors, place the plant near the brightest window in your home to prevent etiolation.
Soil: This plant needs soil that drains quickly. Although commercial potting soil for succulents will work fine, many growers prefer to create their own well-draining mix.
Temperature: As a tender succulent, ×Pachyveria 'Ruth' must be brought indoors for the winter to survive unless you live in a warm climate. It grows best in USDA Plant Hardiness Zones 10a to 11b, with average minimum winter temperatures ranging from 30 to 50 °F (-1.1 to 10 °C).
Watering: The "soak and dry" method is the preferred schedule for watering this plant. Water thoroughly, then allow the soil to dry out before watering again. If you have saucers under the pots, empty the extra water. In winter, water the plant just enough to keep it from shriveling.
Fertilizing: Although it can grow well without fertilizer, this plant will benefit from the extra nutrients during the growing season. Use a water-soluble fertilizer diluted to half the recommended strength.
Repotting: Repot only when necessary in spring, just before the growing season.
Propagation: You can propagate ×Pachyveria 'Ruth' by leaves or offsets in spring and summer.
Learn more at How to Grow and Care for Echeveria.
Toxicity of ×Pachyveria 'Ruth'
×Pachyveria 'Ruth' has no toxic effects reported. It is safe around humans and pets, although it is not advisable to eat it.
Links
Photo Gallery
Click on a photo to see a larger version.