Scientific Name
Pachyphytum 'Blue Haze'
Synonym(s)
Pachyphytum 'Blue Pearls', ×Pachyveria 'Blue Haze'
Scientific Classification
Family: Crassulaceae
Subfamily: Sedoideae
Tribe: Sedeae
Subtribe: Sedinae
Genus: Pachyphytum
Origin
This hybrid results from a cross between Pachyphytum bracteosum and Pachyphytum glutinicaule.
Description
Pachyphytum 'Blue Haze', also known as Pachyphytum 'Blue Pearls', is a beautiful small succulent with erect or decumbent stems and chubby glaucous leaves flushed pink and purple under intense sunlight. The stems slowly grow to 12 inches (30 cm) long, simple or few-branched near the base. The fleshy rounded leaves have a small point on the tips. At first, they are clustered in rosettes, later more or less distant and only in the upper part of the stems. The rosettes are up to 4.4 inches (11 cm) in diameter. Flowers are bell-shaped, rose-colored with sepals the same color as the leaves and appear elegantly clustered on arching inflorescences in spring.
This hybrid is also often sold as Pachyphytum bracteosum.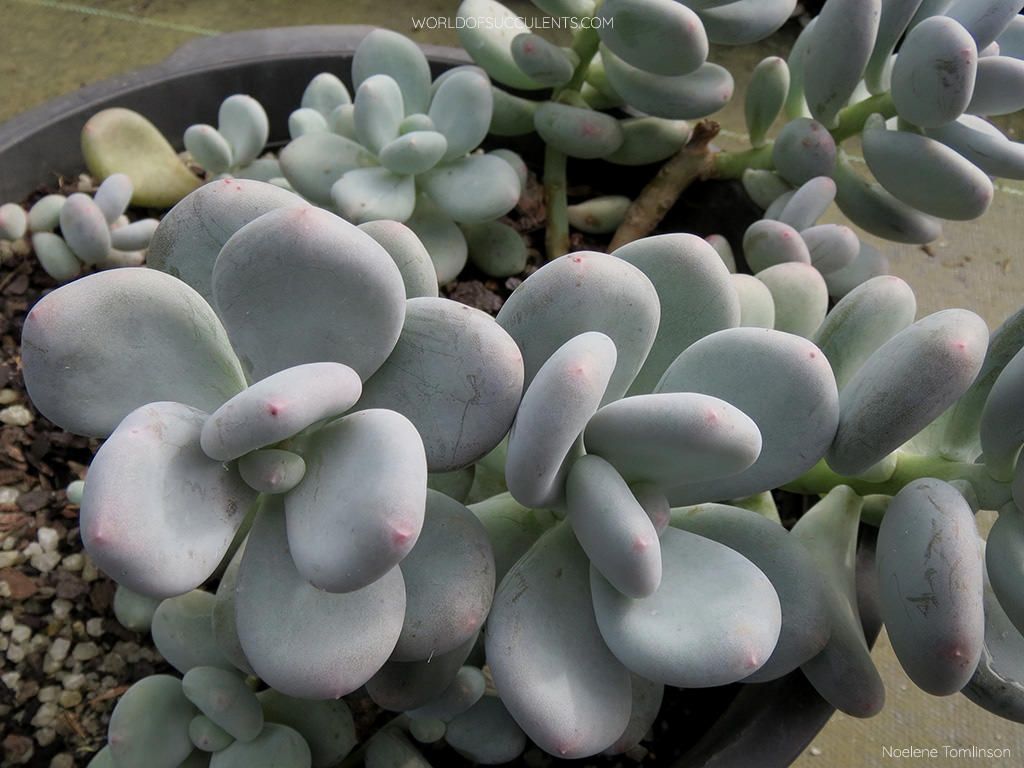 How to Grow and Care for Pachyphytum 'Blue Haze'
Light: P. 'Blue Haze' thrives when exposed to direct sunlight. It will also grow in partial shade but with slightly rangy results. Therefore, keep it near a sunny window when grown as a houseplant.
Soil: The plant needs good drainage to maintain a healthy root system. When growing P. 'Blue Haze' in a container, choose a well-drained soil mix and a container with drainage holes.
Temperature: This plant will do well in hot weather, but its most active growth will occur in spring and fall. P. 'Blue Haze' can withstand temperatures as low as 30 °F (-1.1 °C). USDA Plant Hardiness Zones 10a to 11b, 30 to 50 °F (-1.1 to 10 °C).
Watering: In spring and fall, water the plant thoroughly, then allow the soil to dry out before watering again. Water more sparingly in winter. The plant does not need to be watered during its dormancy in summer except in arid conditions.
Fertilizing: Apply fertilizer to promote healthy growth, including flower production. Fertilize only during the growing season. A water-soluble fertilizer diluted to half the recommended strength is suitable and commonly used.
Repotting: P. 'Blue Haze' do not need frequent repotting. However, when your plant outgrows its pot, repotting in a new container with a fresh potting mix will encourage new growth. Repot in a pot slightly larger than the old one. Give the plant a week or so to readjust before you water it.
Propagation: The easiest way to propagate P. 'Blue Haze' is through stem cuttings. It also easily propagates from leaf cuttings. Even a leaf that drops off will root below the parent plant and produce a new plant. The best time to take cuttings is spring.
Learn more at How to Grow and Care for Pachyphytum.
Toxicity of Pachyphytum 'Blue Haze'
P. 'Blue Haze' is generally non-toxic to humans and pets.
Links
Photo Gallery
Click on a photo to see a larger version.