Orbea knobelii, like several other stapeliads that grow in sand, often have a few underground runners establishing new clumps at some distance from the parent plant in its native habitat.
Scientific Name
Orbea knobelii (E.Phillips) Bruyns
Synonym(s)
Caralluma knobelii, Ceropegia knobelii, Orbeopsis knobelii, Stapelia knobelii
Scientific Classification
Family: Apocynaceae
Subfamily: Asclepiadoideae
Tribe: Ceropegieae
Subtribe: Stapeliinae
Genus: Orbea
Description
Orbea knobelii is a small succulent that forms clumps of stout, quite densely packed stems with conical tubercles joined into four angles along the stem. The stems are green, sometimes mottled with red-brown, and have a slight groove between the angles. They are decumbent and can grow up to 4 inches (10 cm) long and 1 inch (2.5 cm) thick (excluding teeth). Each tubercle is tipped with a stout tooth that becomes hard with age and ends in a sharpish yellow tip.
In the fall, the flowers are produced in clusters of 3 to 10 near the base of the stems and open in rapid succession from short stalks. They are around 1.2 inches (3 cm) across, flat to somewhat curved backward, and have many irregular, purple-brown spots on a white to cream background.
Origin
Orbea knobelii is native to southern Botswana and South Africa (Northern Cape and North West). It grows in deep, fine sand among bushes.
Etymology
The specific epithet "knobelii (noh-BEL-ee-eye)" honors Johann Christian Knobel (1879-?), a South African missionary, naturalist, trader, hunter, and collector of succulent plants who collected the type specimen.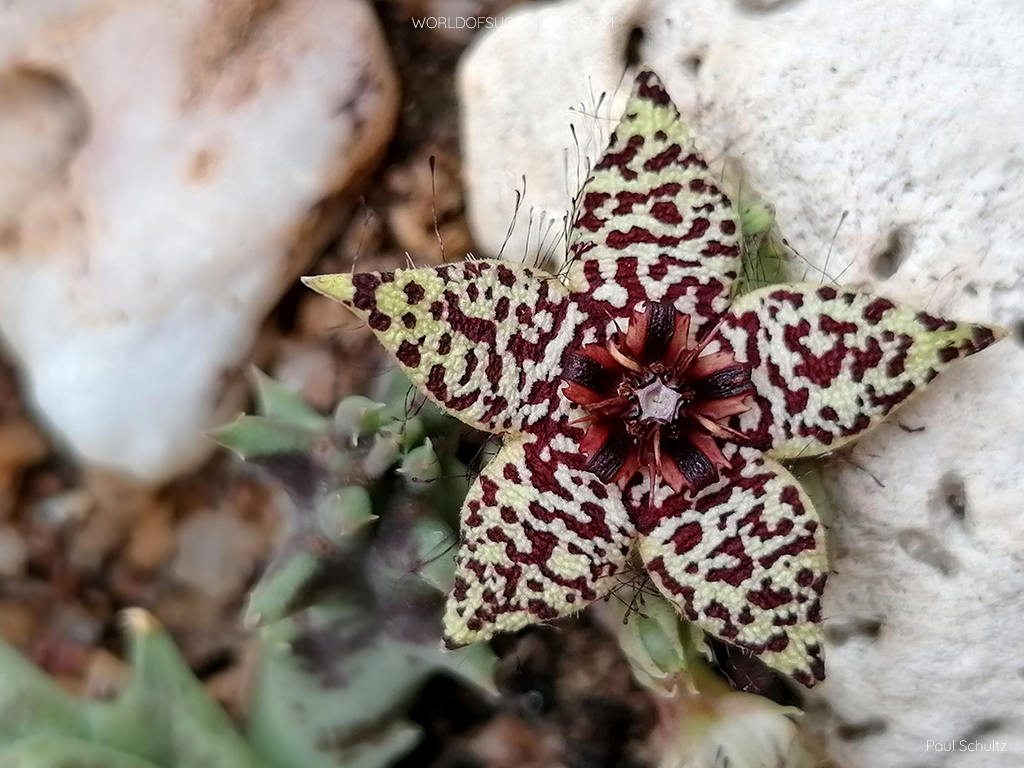 How to Grow and Care for Orbea knobelii
Light: Orbea knobelii thrives in full sun or partial shade during the hottest summer days. Too much sun causes the stems to develop a protective pigmentation or get sunburned. Not enough light leads to weak, thin stems and fewer flowers. Indoors, place the plant near a sunny window in your home.
Soil: The right soil is crucial to growing a healthy plant. Use commercial soil for succulents, or prepare your own mix with 50 to 70 % mineral grit, such as coarse sand, pumice, or perlite.
Temperature: This plant thrives in warm outdoor environments but does not like winter cold and should remain moderately dry and warm during its winter dormancy. Orbea knobelii grows best in USDA Plant Hardiness Zones 11a to 11b, with average minimum winter temperatures ranging from 40 to 50 °F (4.4 to 10 °C).
Watering: It has typical watering needs for a succulent. During the growing season, water your plant thoroughly and allow the soil to dry before watering again. The plant goes dormant in winter and needs almost no water, about once a month.
Fertilizing: To keep it thriving, fertilization during the growing season is a good idea. Feed with water-soluble fertilizer diluted to half the recommended strength.
Repotting: Orbea knobelii will benefit from fresh potting soil every 2 or 3 years. Repot it in spring, just before the growing season starts. Pick a container with drainage holes.
Propagation: The best way to propagate this succulent is from stem cuttings. It is also easy to grow from seeds. Take cuttings during the growing season to ensure good rooting. Sow the seeds in spring.
Learn more at How to Grow and Care for Stapelia.
Toxicity of Orbea knobelii
Orbea knobelii has no toxic effects reported. It is safe around pets and humans.
Links
Photo Gallery
Click on a photo to see a larger version.