Scientific Name
Opuntia humifusa (Raf.) Raf.

Common Name(s)
Devil's Tongue, Eastern Prickly Pear, Low Prickly Pear, Creeping Prickly Pear, Creeping Pear, Large-Flower Prickly Pear, Smooth Prickly Pear, Indian Fig
Synonym(s)
Cactus humifusus, Opuntia humifusa var. humifusa, Opuntia humifusa subsp. humifusa, Opuntia compressa, Opuntia vulgaris
Scientific Classification
Family: Cactaceae
Subfamily: Opuntioideae
Tribe: Opuntieae
Genus: Opuntia
Origin
The native range of species is along the East Coast of the United States, including on barrier islands from the Florida Keys to coastal Massachusetts, and inland, such as a small endangered population in Canada, specifically in Point Pelee National Park on Lake Erie. It grows in open areas in sandy, rocky and coastal scrub habits.
Description
Opuntia humifusa is a low-growing cactus with stems composed of flattened dark or shiny green segments with dense tufts of yellow to red-brown glochids. It forms clumps or mats, usually only 1 or 2 stem segments tall. The stem segments are fleshy, spineless, or sometimes with one or rarely two spines per areole. They are oblong to suborbicular, up to 7 inches (17.5 cm) long, and up to 4.8 inches (12 cm) wide. Flowers are bright yellow, often with an orange or red center, and appear along the margins of mature segments in late spring. They are up to 4 inches (10 cm) long and up to 3.2 inches (8 cm) in diameter. The edible fruits are narrowly obovoid, up to 2.4 inches (6 cm) long and 0.8 inches (2 cm) in diameter, and contain tan disk-shaped seeds. As the fruits mature, they change color from green to red or purple and often remain on the plant until the following spring.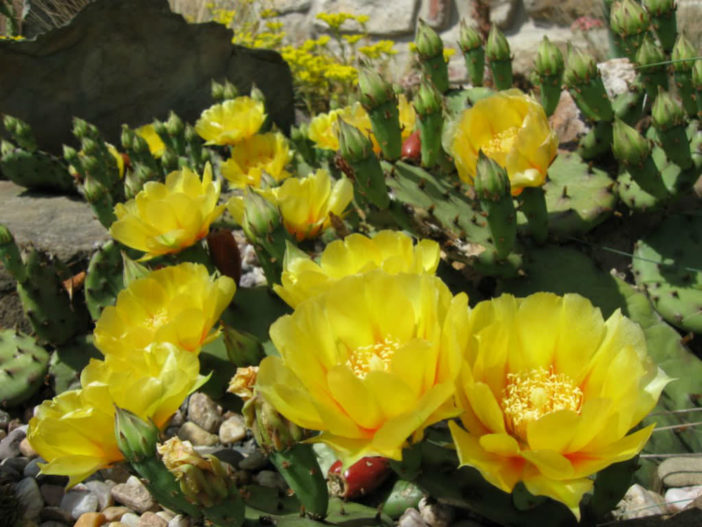 Hardiness
USDA hardiness zones 4b to 10b: from −25 °F (−31.7 °C) to 40 °F (+4.4 °C).
How to Grow and Care
Though the large variety of species within the Opuntia genus means different Prickly Pears may need slightly different care. All are desert cacti that need lots of sun, light, and very little water. So if you live in a hot, arid area, these plants can generally be planted outside, left alone, and enjoyed.
These cacti will grow fine in a garden but can also be grown in pots. To repot, ensure the soil is dry, remove the pot and knock away the old soil. After treating any cuts with fungicide, place the cactus in a new pot and backfill it with potting soil. As with a new cutting, ensure not to water a newly repotting Prickly Pear for a brief period to avoid rotting its roots.
Opuntia can propagate either by cuttings or by seed. To propagate by cuttings, sever pads from a plant and let them dry, so the wounds heal. Then place the plants in dry soil and refrain from watering them until they begin to grow to avoid rotting them.
See more at How to Grow and Care for Opuntia.
Links
Photo Gallery
Click on a photo to see a larger version.