Kokedama is a ball of moss-covered soil with arranged plants. It is a very popular art form in Japan and is often called the "Poor Man's Bonsai." There are so many endless possibilities when it comes to arranging your Kokedama, including a variety of succulents, flowers, wildflowers, grasses, herbs, and other plants that can be mixed to form a small orb.
Kokedama design is a great way to incorporate your favorite succulents indoors, outdoors, or for a show-stopping element at a party or event. Kokedama also can be useful for propagating all those loose cuttings you have sitting around the house.
How to Make
With the soil for succulents and peat moss, begin to form a ball large enough to encompass the root mass of your succulent. Begin with a handful of the soils and add water until a large ball begins to come together, and the soil becomes a malleable clay.
When your ball is formed, break it into halves (it should stay together) and place your plant roots in between them. Smash the soils and roots together, keeping your circular shape until they have become one and the roots are completely enclosed. Wrap the soil with the cotton yarn until it feels secure.
Take the sheet moss and begin to cover the outside of the soil. As you cover, begin to wrap the twine around the outside. The amount is up to you and how you want your final product to look.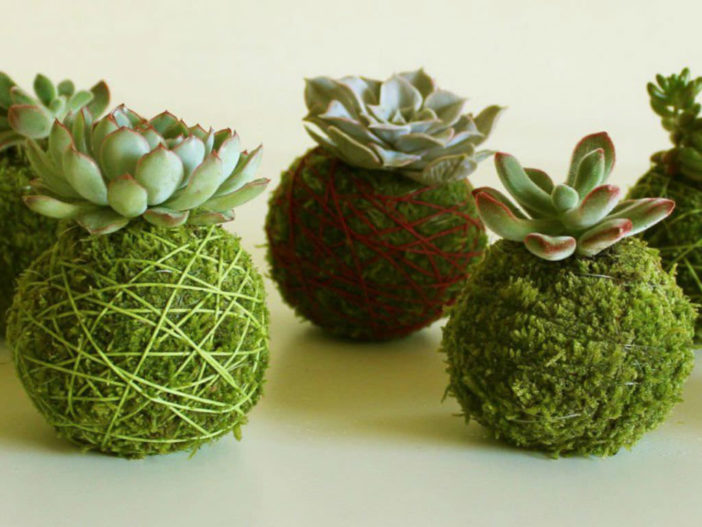 General Care
Depending on the plant ­type, bright, indirect light is best. Keep an eye out for stretching due to low light conditions.
To water, just soak in a bowl and hang to dry. Succulents should be watered generously in the summer, but allow the Kokedama to dry between watering. When the plants go dormant during the winter, you should cut watering back to once a month. Over-watering caused the plant to rot and is the single most common cause of plant failure.  A succulent should never be allowed to sit in water.
You can water with a bit of your favorite fertilizer, diluted down to 1⁄4 strength through the growing season.
Links