Scientific Name
Kalanchoe 'Roseleaf'
Synonym(s)
Kalanchoe beharensis 'Roseleaf', Kalanchoe × edwardii 'Roseleaf', Kalanchoe × edwardii 'Rose Leaf', Kalanchoe 'Rose Leaf'
Scientific Classification
Family: Crassulaceae
Subfamily: Sedoideae
Tribe: Kalanchoeae
Genus: Kalanchoe
Origin
This succulent is one of the two (the other one is Kalanchoe 'Fang') well-known cultivars selected from Kalanchoe × edwardii, an old hybrid that results from a cross between Kalanchoe beharensis and Kalanchoe tomentosa. It was selected by Mrs. Minnie Hummel (1904-1993) of Hummel's Exotic Gardens in Carlsbad, California, United States.
Description
Kalanchoe 'Roseleaf', also known as Kalanchoe × edwardii 'Roseleaf', is an attractive succulent with upright stocky stems that bear triangular, silvery green leaves with a velvety coating and serrated margins. It grows up to 12 inches (30 cm) tall. Leaves are thick, fleshy, and symmetrically arranged as in a cross. They are often brownish on the upper surface. The margins can also be highlighted with brown markings.
Flowers are urn-shaped, nearly white petals with pinkish-purple striations and appear in many-flowered panicles on upright stalks in summer.
K. 'Roseleaf' is quite similar to Kalanchoe 'Fang' but lacks the tubercles on the back of the leaves.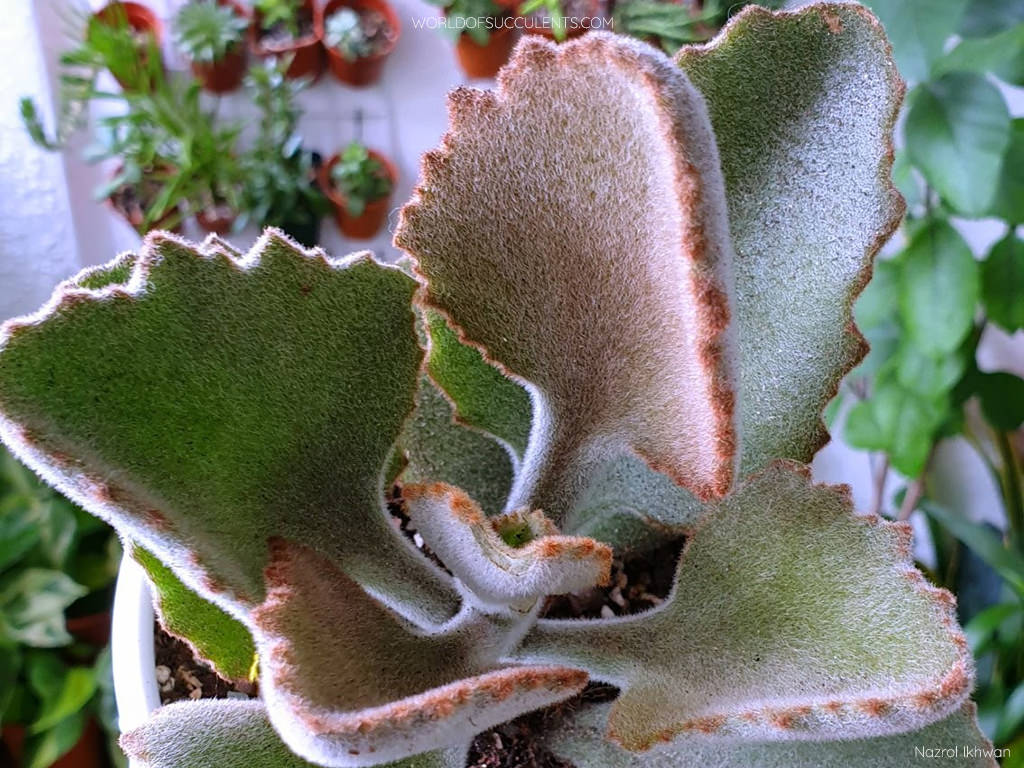 How to Grow and Care for Kalanchoe 'Roseleaf'
Light: K. 'Roseleaf' grows best in full sun but usually appreciates some partial shade in the heat of the summer days. Indoors, place your plant near a window with indirect sunlight. The plant will stretch if it does not receive enough light.
Soil: As with most succulents, K. 'Roseleaf' does not like "wet feet" and needs soil that drains well. Commercial potting mixes for succulent plants will work fine.
Temperature: This plant thrives in heat and humidity but cannot handle frosts. K. 'Roseleaf' can withstand temperatures as low as 25 °F (-3.9 °C). USDA Plant Hardiness Zones 9b to 11b, 25 to 50 °F (-3.9 to 10 °C).
Watering: From spring to fall, water thoroughly, but let the soil dry between watering as overwatering may cause stem rot. Reduce water during the winter months; water just enough to prevent the leaves from shriveling.
Fertilizing: K. 'Roseleaf' benefits from occasional fertilizing during the growing season. Use a balanced fertilizer diluted to half or quarter strength applied every two weeks.
Repotting: This plant thrives better when frequently repotted. For optimum growth, repot it every two years in spring. Go up one pot size every time you repot.
Propagation: K. 'Roseleaf' is easy to propagate by leaf and stem cuttings. Spring is the best time to take leaf cuttings.
Learn more at How to Grow and Care for Kalanchoe.
Toxicity of Kalanchoe 'Roseleaf'
K. 'Roseleaf' is not toxic to people but should be kept away from pets because it may cause vomiting, diarrhea, and heart arrhythmias if consumed.
Links
Photo Gallery
Click on a photo to see a larger version.