Kalanchoe luciae, commonly known as Paddle Plant or Flapjack, is an impressive plant that has gained the prestigious Award of Garden Merit of the UK's Royal Horticultural Society.
Scientific Name
Kalanchoe luciae Raym.-Hamet
Common Name(s)
Desert Cabbage, Flapjack, Paddle Kalanchoe, Paddle Plant, Red Pancakes
Synonym(s)
Kalanchoe albiflora, Kalanchoe aleuroides
Scientific Classification
Family: Crassulaceae
Subfamily: Sedoideae
Tribe: Kalanchoeae
Genus: Kalanchoe
Description
Kalanchoe luciae is an eye-catching succulent that forms rosettes of fleshy, grey-green to yellowish-green leaves with red-tinged edges. It can grow solitary or form a clump of several rosettes and is covered with a white, mealy layer that falls off with age. The fleshy leaves vary in shape from subcircular or obovate to oblong–spathulate and can reach up to 9.2 inches (23 cm) in length and 6 inches (15 cm) in width. By exposing the plant to direct sunlight and low temperatures, the margins of the leaves will deepen in color and spread.
An erect, slightly rigged flowering stem arises from the center of rosettes formed the previous year and can grow up to 6.6 feet (2 m) tall. The flowers appear in dense, many-flowered thyrses or panicles during late winter and early spring. They are urn-shaped, up to 0.5 inches (1.2 cm) long, and have pale yellowish-green, distinctly 4-angled corolla, sometimes covered with a slight bloom. This plant is monocarpic, which means the rosette dies after flowering but produces new offsets at its base.
Kalanchoe luciae is often mislabeled as its much rarer relative, Kalanchoe thyrsiflora. To distinguish between the two, observe the size of the leaves and their response to stress. Kalanchoe luciae has larger leaves that turn redder when stressed, while those of Kalanchoe thyrsiflora remain gray-green. Additionally, the flowers of Kalanchoe luciae are pale yellowish-green with no noticeable scent, while those of Kalanchoe thyrsiflora are darker yellow and sweetly fragrant.
Origin
The native range of Kalanchoe luciae is from north-eastern KwaZulu-Natal to the north-central escarpment of Limpopo and Mpumalanga provinces of South Africa and Eswatini and extends northward to Zimbabwe and Mozambique. It grows on hills and ridges, granite slopes in woodlands or savanna.
Etymology
The specific epithet "luciae (LOO-see-ay) honors Mademoiselle Lucy Dufour, an acquaintance of the French botanist and physician Raymond Hamet, who described this species.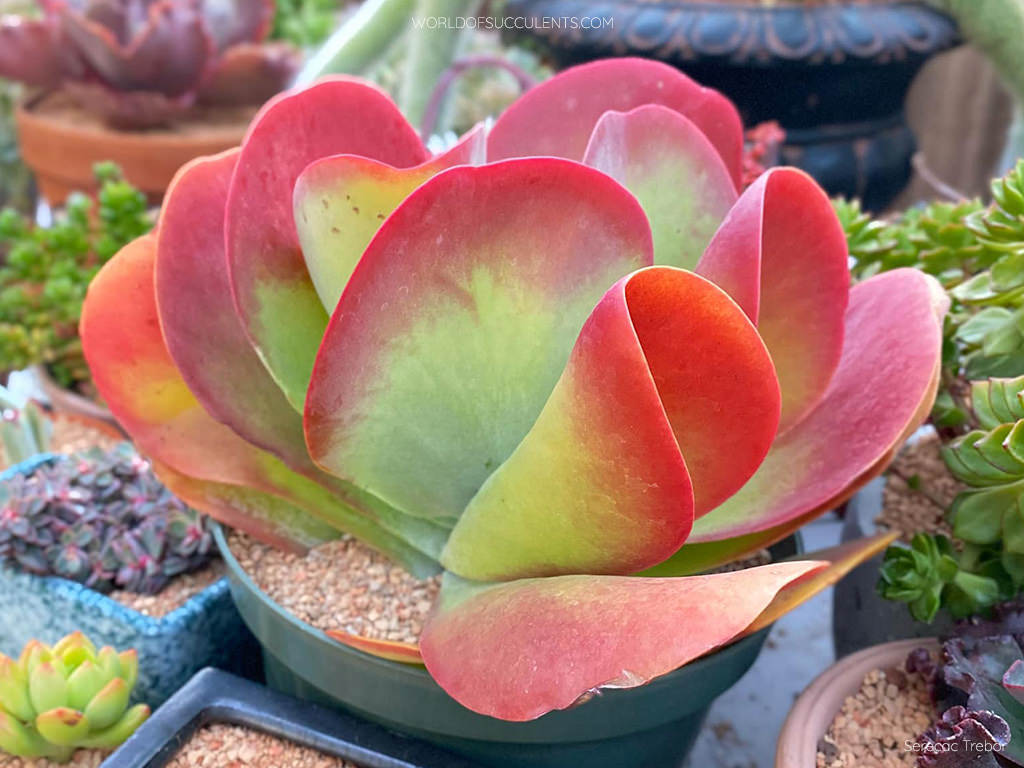 How to Grow and Care for Kalanchoe luciae
Light: Kalanchoe luciae grows best in full sun but usually appreciates some partial shade during the hot summer days. When growing indoors, place it near a window with indirect sunlight. If it does not receive enough light, it may stretch.
Soil: The plant needs soil that drains well and does not like "wet feet." A commercial potting mix for succulents will work well.
Temperature: Kalanchoe luciae thrives in heat and humidity but cannot handle frosts. It grows best in USDA Plant Hardiness Zones 10a to 11b, with average minimum winter temperatures ranging from 30 to 50 °F (-1.1 to 10 °C).
Watering: From spring to fall, water the plant thoroughly, but let the soil dry between watering as overwatering may cause stem rot. Reduce water during winter and only water it enough to prevent the leaves from shriveling.
Fertilizing: Fertilize occasionally during the growing season with a balanced fertilizer diluted to half or quarter strength applied every two weeks.
Repotting: The plant thrives better when frequently repotted. For optimum growth, repot it every two years in spring. Go up one pot size every time you repot.
Propagation: Kalanchoe luciae can be easily propagated by seeds, offsets, or leaf and stem cuttings. Spring is the best time to take cuttings and separate offsets. Sow the seeds in spring or summer.
Learn more at How to Grow and Care for Kalanchoe.
Toxicity of Kalanchoe luciae
Kalanchoe luciae is not toxic to people but should be kept away from pets because it may cause vomiting, diarrhea, and heart arrhythmias if consumed.
Cultivars of Kalanchoe luciae
Links
Photo Gallery
Click on a photo to see a larger version.