This plant was discovered by Tom McCoy in 2000 on his trip to the rarely visited Jabal Raymah mountains in Yemen at an elevation of 3,710 feet (1,130 m). It flowered the following year in Riyadh, and Darrel Plowes described it as Huernia mccoyi in 2003.
Scientific Name
Huernia mccoyi Plowes
Scientific Classification
Family: Apocynaceae
Subfamily: Asclepiadoideae
Tribe: Stapeliae
Genus: Huernia
Description
Huernia mccoyi is a small succulent plant that forms clumps of fleshy stems with long deltoid tubercles joined into five angles. The stems are erect or ascending, branch from the base, and can grow up to 4 inches (10 cm) long and 1 inch (2.5 cm) thick (including tubercles). They are smooth, green, and mottled with purple.
During the fall, the plant produces attractive flowers near the base of the stems. The flowers are funnel-shaped, densely papillate, pale yellow patterned with dark burgundy stripes, and can reach a diameter of 1.2 inches (3 cm). Most stapeliads have flowers that smell like rotten meat to attract pollinators, but fortunately, the flowers of this species are odorless.
Origin
Huernia mccoyi is native to the Jabal Raymah mountains in western Yemen.
Etymology
The subspecific epithet "mccoyi (mak-KOY-ee)" honors Tom A. McCoy (*1959), an American collector (resident of Riyadh, Saudi Arabia) and researcher of succulent flora and the finder of the species.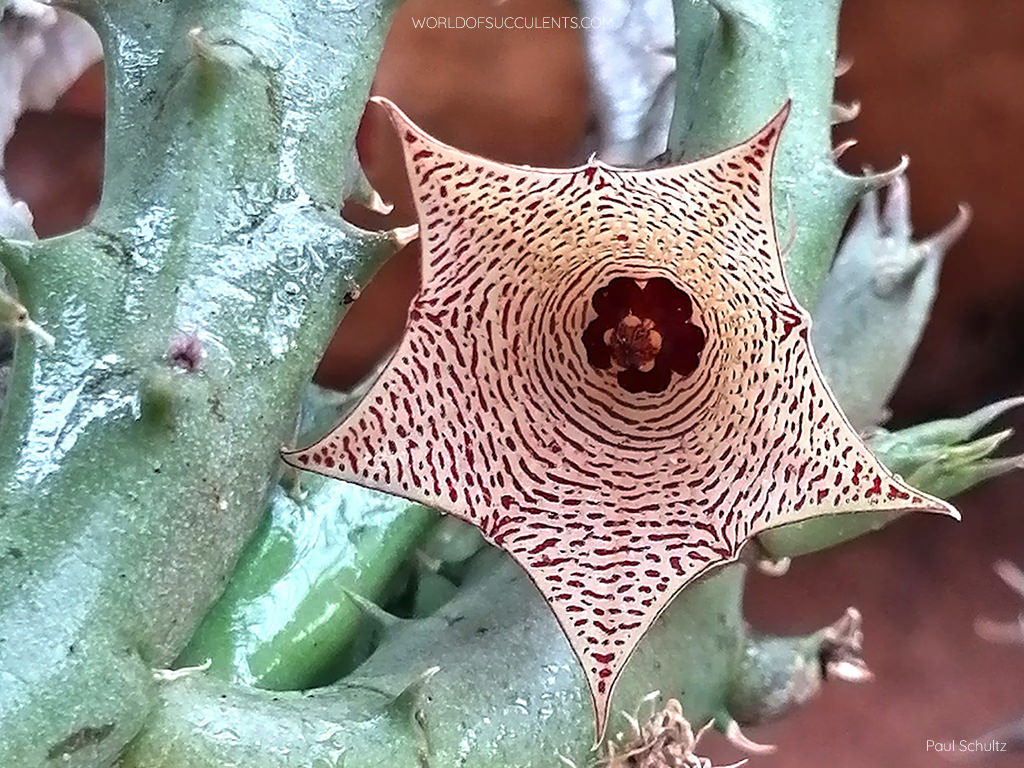 How to Grow and Care for Huernia mccoyi
Light: Huernia mccoyi prefers bright light or partial shade during the hottest summer days. Too much sun can cause the stems to develop a protective pigmentation or get sunburned. Too little light leads to weak, thin stems and decreased flower production. When grown indoors, place the plant near the brightest window of your home.
Soil: The right soil is crucial to successful growing. Use a commercial potting soil mix for succulents, or prepare your own with 50 to 70 % mineral grit, such as coarse sand, pumice, or perlite.
Temperature: Huernia mccoyi thrives in warm outdoor environments with low to moderate humidity but does not like winter cold and should remain fairly dry and warm during its winter dormancy. It grows best in USDA Plant Hardiness Zones 10b to 11b, with average minimum winter temperatures ranging from 35 to 50 °F (1.7 to 10 °C).
Watering: This plant has typical watering needs for a succulent. During the growing season, water it thoroughly and allow the soil to dry between waterings. It goes dormant in winter and needs almost no water, about once a month.
Fertilizing: To keep it healthy and thriving, fertilization during the growing season is a good idea. Feed with water-soluble fertilizer diluted to half the recommended strength.
Repotting: The plant will benefit from fresh potting soil every 2 or 3 years. Repot it in spring, just before the growing season. Pick a container with drainage holes.
Propagation: The best way to propagate Huernia mccoyi is from stem cuttings. Take cuttings during the growing season to ensure good rooting. It is also easy to start from seeds in spring.
Learn more at How to Grow and Care for Huernia.
Toxicity of Huernia mccoyi
Huernia mccoyi has no toxic effects reported, so it is safe around pets and humans.
Links
Photo Gallery
Click on a photo to see a larger version.