Hatiora is a species of cultivated ornamental cactus with commonly known varieties such as Easter Cactus, Whitsun Cactus or Christmas Cactus, depending on its flowering season. These plants are among the most popular varieties of cultivated cactus. Some varieties, such as Drunken Dream, have arched stems and are sold for hanging baskets. It is an epiphytic plant, one that grows mostly on tree trunks in wet and humid regions.
The stems of Hatiora may be leaf-shaped or flat. Depending on the species, it can grow to maximum lengths ranging between 20 inches (50 cm) and 6 feet (1.8 m). The stems are green all year round and are smooth, rather than toothed or scalloped. Funnel-shaped, small flowers that resemble tiny daisies grow at the end of stem segments. These range in colour from yellow, orange, red and pink. In some conditions, Hatiora can flower twice a year.
Hatiora grows in the wild in tropical rain forests of south Eastern Brazil, as far south as the state of Parana, along the border with Paraguay. Although it grows mostly on tree trunks, it is sometimes found growing on rocky ground. In the wild, Hatiora bloom in spring and will sometimes flower twice in one year.
Growing Conditions
Light: This tropical cacti likes bright partial light only. It should never be exposed to full sunlight or midday sunlight.
Water: Soil should be kept constantly moist, but never soggy. Do not allow water to sit in the dish underneath.
Temperature: Hatioras prefers spring, summer, and fall temperatures around 75-80 °F (24-27 °C). Winter temperatures should be between 45-65 °F (7-18 °C) only.
Soil: Due to its natural growing environment being on rocks or trees, this cacti requires rough soil to grow well. A 1:1 mixture of potting soil to pumice, tree bark, or perlite is required. Pumice is preferred.
Fertilizer: Hatioras prefers fertilization every 14 days. Use a balanced 10-10-10 fertilizer, and dilute to half strength. Do not fertilize during resting period.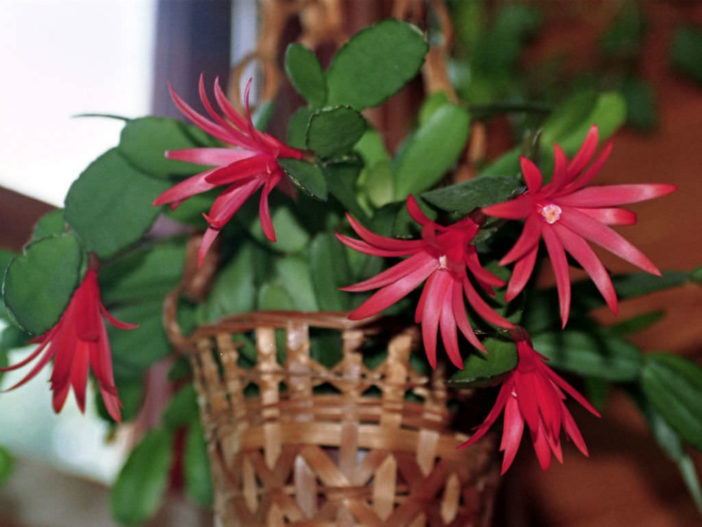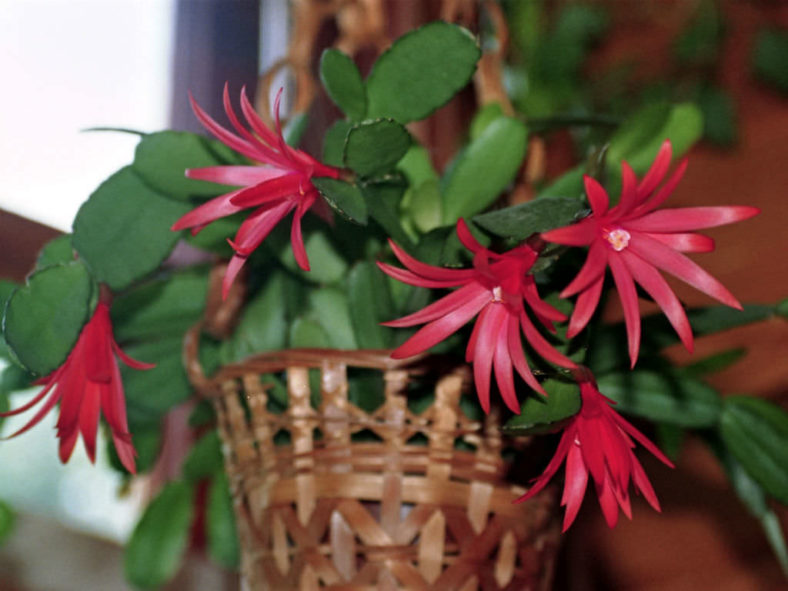 Grower's Tips
Hatiora thrives best in indirect light with exposure to morning and evening sun. It prefers a well drained soil. Cactus or epiphytic compost works well. It can be propagated easily through cuttings that can root immediately in soil. Hatiora likes long nights of about 14 hours. Cover the plant with a paper bag to shut out sunlight. Try not to reposition the plant once flower buds appear, as these could fall off during any movement. It needs a month's rest after flowering, so water sparingly during this period.
Links
BACK TO genus Hatiora
SUCCULENTOPEDIA: Browse succulents by Genus, Family, Scientific Name, Common Name, Origin, or cacti by Genus