Twenty-five per cent of southern African flora is succulent in nature, and a remarkable forty per cent of the world's succulent plants occur in South Africa. The book will highlight the diversity of succulents that occur in the region with special emphasis on the larger groups – mesems (vygies) and Аloes. The book covers approximately 250 individual species, focusing on the most common and most interesting, and each entry features a photograph and distribution map.
Featuring 250 of the region's most interesting and commonly encountered succulents, this book is a guide to the identification of these increasingly popular plants. Color photographs vividly portray all the species covered. Authoritative text describes key identification features. Distribution maps show the occurrence of each species in Southern Africa. This guide will have wide appeal both to naturalists and to the gardening public who, increasingly, are on the lookout for indigenous, low-maintenance and waterwise plants.
Book Details
Authors: Gideon Smith and Neil Crouch
Paperback: 136 pages
Publisher: Random House Struik (November 1, 2009)
Language: English
Dimensions: 0.4 x 6 x 8.7 inches (1 x 15.2 x 22.1 cm)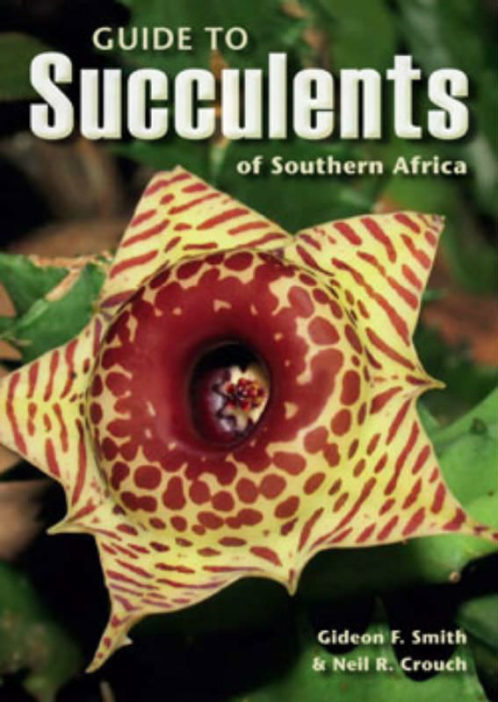 About the Authors
Gideon Smith is Chief Director for Biosystematics Research and Biodiversity Collections at the SA National Biodiversity Institute. He is involved in various national and international environmental associations and advisory committees. His interests are in the biology and classification of succulent plants, as well as landscaping and horticulture. South Africa's most prolific author on succulent plants, he has authored or co-authored ±40 books, and more than 500 research and popular papers, mostly on succulents.
Neil Crouch is an ethno-botanist working for South African National Biodiversity Institute (SANBI). He has authored numerous scientific papers and articles and co-authored Guide to Succulents of Southern Africa.
Links