Scientific Name
Dioscorea elephantipes (L'Hér.) Engl.
Common Name(s)
Elephant's Foot, Hottentot Bread, Hottentots' Bread, Tortoise Back Plant, Turtle Back, Turtle Shell
Synonym(s)
Dioscorea elephantopus, Dioscorea testudinaria, Rhizemys elephantipes, Tamus elephantipes, Testudinaria elephantipes
Scientific Classification
Family: Dioscoreaceae
Genus: Dioscorea
Description
Dioscorea elephantipes is a weird but unique and beautiful plant with a large, exposed tuber covered with greyish, angular, corky plates and annual climbing stems twisting to the left and bearing heart-shaped leaves. The tuber grows very slowly but can reach more than 3.3 feet (1 m) in height and 10 feet (3 m) in diameter. The plant is summer-deciduous, so it drops its leaves in summer. The stems usually die back during the summer, and new shoots appear in winter.
This plant is dioecious, having the male and female flowers in separate plants. The flowers are pale greenish-yellow and usually appear in winter. The male flowers are held in erect, spiny racemes, while the female flowers in spinescent, nodding to spreading spikes.
Origin
Dioscorea elephantipes is native to the dry interior of South Africa. It grows on dry, rocky slopes in the Western Cape and Eastern Cape provinces.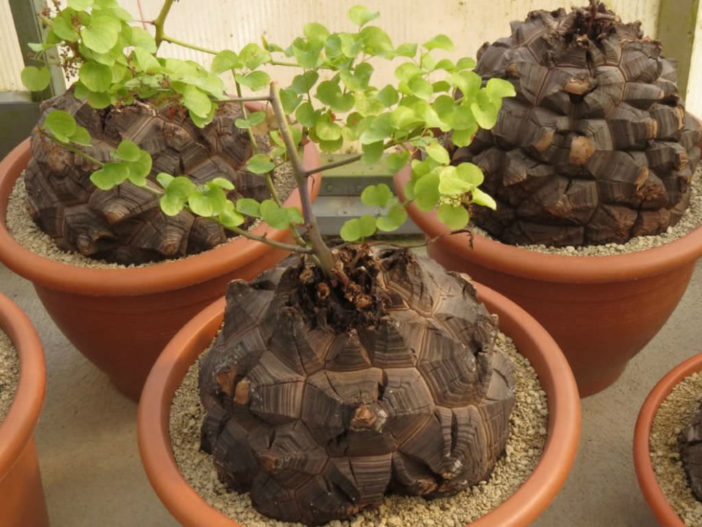 Hardiness
USDA hardiness zone 9b to 11b: from 25 °F (−3.9 °C) to 50 °F (+10 °C).
How to Grow and Care
In most climates, Elephant's Foot are grown as indoor plants, and the plant is relatively easy to grow from seed. The roots aren't deep, so plant Elephant's Foot in a shallow pot filled with porous, well-drained potting soil. Water the plant around the edges of the pot and not directly on the tuber. Allow the soil to become nearly dry before watering again.
If you grow Elephant's Foot outdoors, place it in sandy soil amended with rich, well-rotted compost. Be careful not to overwater.
Elephant's Foot care is simple. Feed the plant with a very dilute (25 percent of recommended) fertilizer with each watering. Withhold fertilizer and water sparingly during the plant's dormant period, when the vines turn yellow and die back. Plants often go dormant during the summer, but there is no set pattern or schedule.
If the vine dries up completely during dormancy, move the plant to a cool place and withhold water for about two weeks, then return it to the sunny location and resume regular care.
The propagation of the Elephant's Foot can be done from seed. Cuttings are not an option. The seed capsule must be dry before the seeds can be collected. The seeds, which are winged, should be sown in flat seed pans. They should be covered with a sowing medium under 2 inches (5 cm).
Links
Photo Gallery
Click on a photo to see a larger version.