With their colorful leaves, sculptural shapes, and simple care, succulents are beautiful yet forgiving plants for pots. If grown in containers, these dry-climate jewels—which include but are not limited to cacti—can be brought indoors in winter and so can thrive anywhere in the world.
In this inspiring compendium, the popular author of Designing with Succulents provides everything beginners and experienced gardeners need to know to create stunning container displays of exceptionally waterwise plants. The extensive palette includes delicate sedums, frilly echeverias, cascading senecios, edgy agaves, and fat-trunked beaucarneas, to name just a few. Easy-to-follow, expert tips explain soil mixes, overwintering, propagation, and more.
Define your individual style as you effectively combine patterns, colors, textures, and forms. Discover how top designers interpret the dramatic options, in ideas ranging from exquisite plant-and-pot combinations to extraordinary topiaries and bonsai. Expand your repertoire with plump-leaved plants that resemble pebbles, stars, and undersea creatures. Short on space? Create vertical gardens and hanging baskets, and use daisylike rosettes in wall displays.
Each of the more than 300 photographs offers an inspiring idea. A-to-Z descriptions cover 350 of the best succulents, plus companion plants. Whether your goal is a gorgeous potted garden for a sunny windowsill or outdoor living area—or simply making great gifts—this is a comprehensive primer for creating vibrant, living works of art.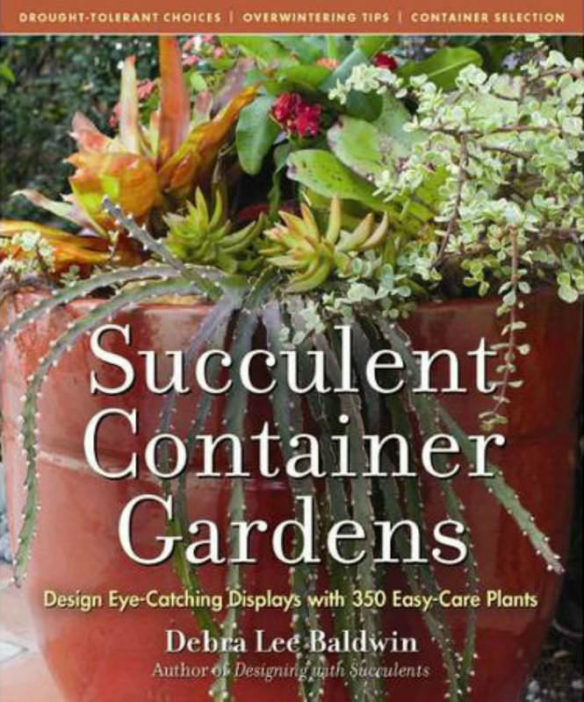 Author: Debra Lee Baldwin
Paperback: 248 pages
Publisher: Timber Press (January 20, 2010)
Language: English
Dimensions: 8 x 0.9 x 9.6 inches
About the Author
Debra Lee Baldwin specializes in showing how top floral and garden designers use dynamic, sculptural succulents in a wide variety of eye-catching applications. Her own garden, which has been in Sunset and Better Homes & Gardens, is in the foothills northeast of San Diego, where temps range from below freezing to upwards of 100 degrees.
Succulents, Debra explains, "are plants that drink responsibly. They store water in fleshy leaves and stems to survive dry spells, like when you forget to water them. They're a terrific option for good-looking, low-maintenance landscapes and containers."
Debra, a garden photojournalist, got her start writing about homes, gardens, architecture and interior design for the San Diego Union-Tribune, then went on to scout, write and shoot for major magazines. In 2005, her editor at Sunset suggested she do a book on succulents. "That changed my life," Debra says.
Links