Scientific Name
Aloe thraskii Baker
Common Name(s)
Coast Aloe, Dune Aloe, Strand Aloe
Synonym(s)
Aloe fraskii
Scientific Classification
Family: Asphodelaceae
Subfamily: Asphodeloideae
Genus: Aloe
Origin
This succulent is native to South Africa (KwaZulu-Natal and the Eastern Cape). It only grows in almost pure sand right at the beach margin among low coastal vegetation or taller bushes.
Description
Aloe thraskii is a tree-like succulent with a simple erect stem, gracefully recurved densely rosulate leaves, and old dried leaf remains persistent to the base of the stem. It usually grows up to 6.6 feet (2 m), sometimes up to 13.1 feet (4 m) tall. Leaves are dull green to glaucous, deeply channeled, sometimes even touching the skirt of old, dried leaves around the stem. Leaves are 2.25 feet (1.6 cm) long and 8.8 inches (22 cm) wide, gradually tapering to the apex and with margins armed with small reddish deltoid teeth. The buds are greenish to orange, and open flowers are lemon yellow to pale orange, with greenish tips. The flowers are up to 1.2 inches (3 cm) long and appear on well-branched inflorescences with upright broadly-cylindrical racemes. The inflorescence in young plants is one only with 4 to 6 racemes, while in large fully-grown specimens, 3 to 4 simultaneously, each with 4 to 8 branches producing a total of 15 to 25 racemes. Fruits are oblong-trigonous capsules, green, turning reddish-brow, markedly 3-angled, up to 1.2 inches (3 cm) long, and up to 0.6 inches (1.5 cm) across.
This species is closely related to Aloe excelsa and Aloe rupestris but is distinguished by its strongly recurved leaves.
Etymology
The specific epithet "thraskii (THRAS-kee-eye)" honors Mr. Thrask, of whom nothing besides his name is known.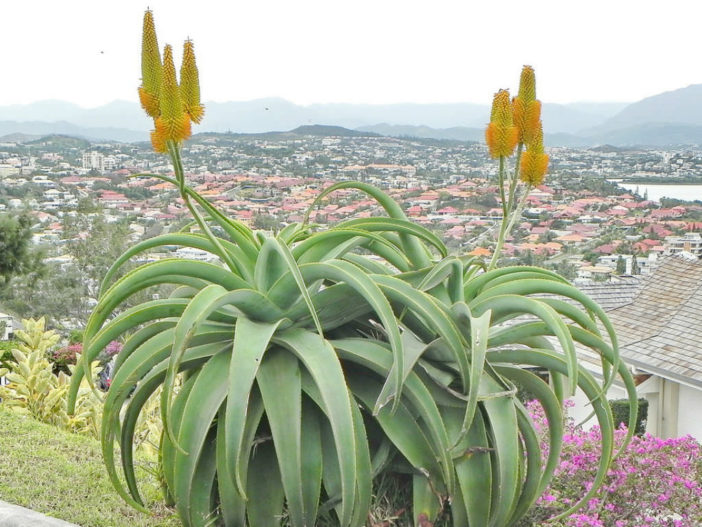 Hardiness
USDA hardiness zones 9b to 11b: from 25 °F (−3.9 °C) to 50 °F (+10 °C).
How to Grow and Care
Aloe is a very forgiving plant, and a well-grown plant can be quite beautiful. However, as with all succulents, Aloe must never be allowed to sit in stagnant water, and the plant should be carefully monitored to watch for signs of overwatering.
These succulents are not particularly fast-growing and will only rarely need repotting. However, in the spring, repot Aloes tipping over their pots or have ceased growing. Use a fast-draining potting mix with one-third of sand or pebbles. When repotting a larger plant, it is possible to divide the root ball carefully. Some varieties of Aloe will send off offsets that can be potted independently.
Aloe plants need strong, bright light. They can withstand full summer sun once acclimated. In the winter, provide bright light. It prefers warmer temperatures of 70 to 80 °F (21 to 27 °C) but will survive down to 40 °F (4.5 °C). Feed with a succulent fertilizer in the summer only. Suspend feeding in the winter as the plant goes dormant.
See more at How to Grow and Care for Aloe.
Links
Photo Gallery
Click on a photo to see a larger version.