Scientific Name
Aeonium 'Mardi Gras'
Scientific Classification
Family: Crassulaceae
Subfamily: Sempervivoideae
Tribe: Aeonieae
Genus: Aeonium
Description
Aeonium 'Mardi Gras' is a spectacular succulent that forms rosettes of fleshy, spoon-shaped leaves with unique tricolor variegation. It is a compact plant that can grow over 12 inches (30 cm) tall and produces offsets from the outer ring of the main rosette. The leaves are lemon yellow with emerald green mid-stripes that blush pink to burgundy, especially in bright light or cooler temperatures. They are up to 2.8 inches (7 cm) long and 0.8 inches (2 cm) broad and end in a short sharp point.
Large, conical to egg-shaped clusters of star-shaped, bright yellow flowers appear on mature rosettes from spring to summer.
Origin
Aeonium 'Mardi Gras' is a patented hybrid (USPP21407) by Altman Plants. It was created by Renee O'Connell in 2007 and results from a cross between an unnamed Aeonium hybrid and Aeonium 'Velour'.
Etymology
The hybrid epithet "Mardi Gras" refers to the colorful Mardi Gras festival for the tricolor variegation of the leaves.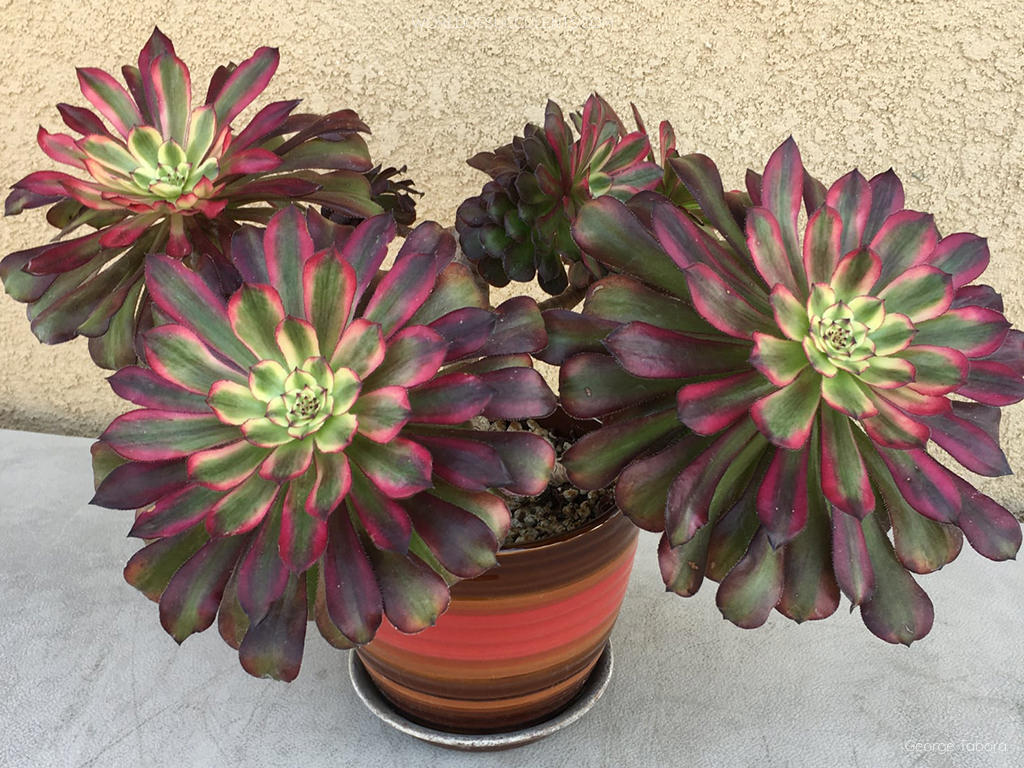 How to Grow and Care for Aeonium 'Mardi Gras'
Light: Aeonium 'Mardi Gras' thrives in full sun to partial shade, but in summer, light shade may be necessary, especially during the hotter afternoon hours. When growing indoors, ensure it receives as much bright indirect light as possible to prevent the plant from becoming leggy and stretched.
Soil: Unlike most succulents, this plant requires a sandy loam or regular potting soil amended with perlite. Avoid placing it in premade soil mixes designed for succulents since it needs more moisture than they typically provide.
Temperature: Aeonium 'Mardi Gras' does not like hot or dry weather, so it may go dormant in summer. It grows best in USDA Plant Hardiness Zones 10a to 11b, with average minimum winter temperatures ranging from 30 to 50 °F (-1.1 to 10 °C).
Watering: Water the plant thoroughly in spring and fall, allowing the soil to dry before watering again. During the winter, water it more sparingly. While this plant requires more water than most succulents, too much moisture can lead to root rot. During its dormancy in summer, stop watering except in arid conditions.
Fertilizing: To promote healthy growth, apply a water-soluble fertilizer diluted to half the recommended strength. Feed only during the growing season.
Repotting: If growing Aeonium 'Mardi Gras' in a container, repot it every two to three years during the spring. Choose a container with drainage holes to prevent root rot.
Propagation: This plant is easy to propagate by taking cuttings. Take cuttings in spring and allow the cut end to dry for several days before placing it in the soil.
Learn more at How to Grow and Care for Aeonium.
Toxicity of Aeonium 'Mardi Gras'
Aeonium 'Mardi Gras' is considered non-toxic, so it is safe for growing around children and pets.
Links
Photo Gallery
Click on a photo to see a larger version.