Scientific Name
Talinum caffrum (Thunb.) Eckl. & Zeyh.
Common Name(s)
Fameflower, Porcupine Root
Synonym(s)
Anacampseros ramosa, Claytonia caffra, Portulaca caffra
Scientific Classification
Family: Talinaceae
Genus: Talinum
Description
Talinum caffrum is a perennial plant with a tuberous root and annual, much-branched, semi-erect or decumbent stems that bear green leaves with irregularly recurved margins. It can grow up to 16 inches (40 cm) tall. The leaves measure up to 2.4 inches (6 cm) long and 0.6 inches (1.5 cm) wide. They are often fleshy and deciduous but may be semi-evergreen.
The flowers are yellow, usually solitary, rarely in clusters of 2 to 3, and can reach up to 0.8 inches (2 cm) in diameter. They open in the afternoon and fade by nightfall.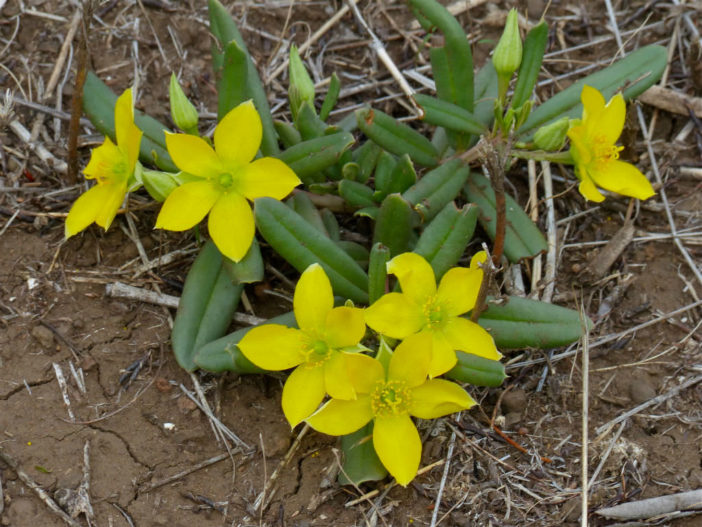 Hardiness
USDA hardiness zones 11a to 11b: from 40 °F (+4.4 °C) to 50 °F (+10 °C).
How to Grow and Care
This plant prefers a full sun location but can tolerate a slight shade for part of the day. It does well in hot, dry areas but benefits from some watering. It can be drought-tolerant for several weeks at a time. It does best in sandy and well-drained soils and tolerates poor soils and heat. Excellent for rock gardens and hot areas where not too much else grows.
The lime green leaves brighten any garden, making it a wonderful border plant or addition to any flower garden. It will reseed itself once established. Just thin out the seedlings or transplant them to where you want them. If reseeding is undesirable, deadhead as seeds form. Sadly, seeds usually form on the same stalks while still flowering, so this is often hard to do.
It grows well as a pot plant and is excellent on hot, sunny decks where the lime-green leaves provide an appearance of coolness.
Seeds are tiny, so although they can be sown directly outside, keeping weeds from the bed while germinating can be difficult. Indoor germination is recommended. If you are sowing the seeds outside, do so 2 to 4 weeks after the first frost date when the soil is warm.
Start 6 to 8 weeks before the last frost date in good potting soil, flats, or plug cells. Germination is easy and usually begins within 6 to 14 days, depending on temperature and other conditions. The best temperatures are between 65 and 75 °F (18 and 24 °C). Do not cover the seeds as light aids germination.
Transplant to small pots and grow until small plants harden off before transplanting out. Do so on a cloudy day with a likelihood of rain to ensure the plant can establish itself well. Since planting in a hot sunny location, plants need to be watered well until established.
Origin
Talinum caffrum is native to Namibia, Angola, and Kenya.
Links
Photo Gallery
Click on a photo to see a larger version.