Scientific Name
Tacinga palmadora (Britton & Rose) N.P.Taylor & Stuppy
Synonym(s)
Opuntia palmadora
Scientific Classification
Family: Cactaceae
Subfamily: Opuntioideae
Tribe: Opuntieae
Genus: Tacinga
Description
Tacinga palmadora is a shrubby cactus or small tree with branches composed of flattened, elliptical to obovate joints. It can grow up to 16.4 feet (5 m) tall, heavily branched at the base, or sometimes forming a trunk up to 3.6 inches (9 cm) in diameter. The stem segments are green when young and become grey-green with age, measuring up to 6.4 inches (16 cm) long, 3.2 inches (8 cm) wide, and 0.8 inches (2 cm) thick. The white-felted areoles bear brown glochids and 1 to 4 (rarely 6) yellow spines that become whitish as they mature and grow up to 1.2 inches (3 cm) long.
The flowers are orange to brick red and appear near the top of the uppermost stem segments from late spring to early summer. They are up to 0.8 inches (2 cm) in diameter and up to 1.2 inches (3 cm) 3cm long (including the narrow inverted cone-shaped floral tube). The fruits are greenish to reddish or purple, obovoid to inverted cone-shaped, and up to 2 inches (5 cm) long. They contain translucent whitish pulp and dark brown seeds.
Origin
Tacinga palmadora is endemic to northeastern Brazil (Bahia). It grows on sandy soil from 660 to 3,350 feet (200 to 1,020 m) above sea level.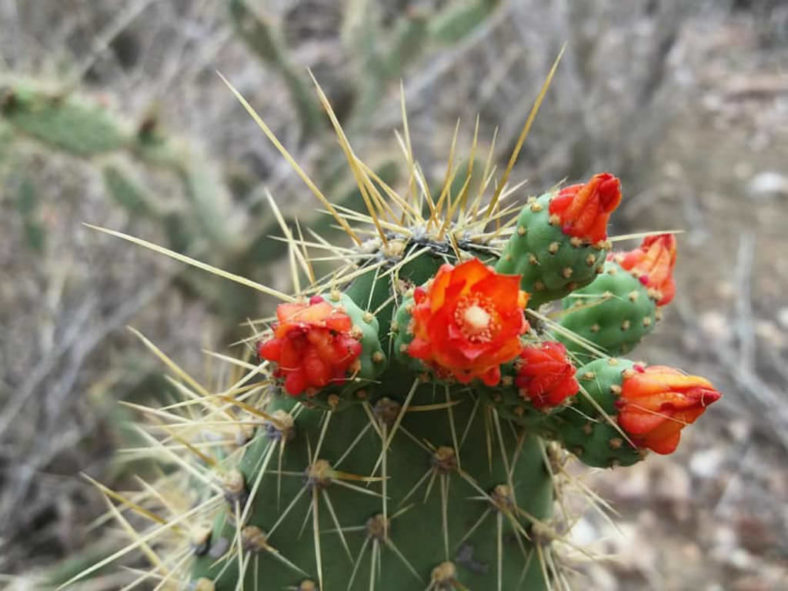 Hardiness
USDA hardiness zone 10b to 11b: from 35 °F (+1.7 °C) to 50 °F (+10 °C).
How to Grow and Care
Though the large variety of species within the Opuntia genus means different types of prickly pears may need slightly different care, all are desert cacti that need lots of sun, lots of light, and very little water. If you live in a hot, arid area – particularly the American Southwest – these plants can generally be planted outside, left alone, and enjoyed. Though Opuntia will grow just fine in a garden, they can also be grown in pots.
Though Opuntia will grow just fine in a garden, they can also be grown in pots. To repot, ensure the soil is dry, remove the pot, and remove the old soil. After treating any cuts with fungicide, place the prickly pear in a new pot and backfill it with potting soil. As with a new cutting, ensure not to water a newly repotting Prickly Pear for a brief period to avoid rotting its roots.
See more at How to Grow and Care for Opuntia.
Links
Photo Gallery
Click on a photo to see a larger version.