Scientific Name
Sedum actinocarpum Yamam.
Scientific Classification
Family: Crassulaceae
Subfamily: Sempervivoideae
Tribe: Sedeae
Genus: Sedum
Origin
This species is endemic to Taiwan.
Description
Sedum actinocarpum is an annual succulent with simple, apically 2-branched, or rarely 3-branched stems with alternate or sometimes opposite leaves. The stems are slender, erect, and up to 7.2 inches (18 cm) tall. Leaves are spatulate, round to obtuse at the apex, up to 1.1 inches (2.7 cm) long and up to 0.45 inches (1.1 cm) wide. Flowers are yellow, star-shaped, 5-merous, and appear arranged in cymes from late winter to spring. Follicles are horizontally spreading and contain tiny brown seeds.
Etymology
The specific epithet "actinocarpum (ak-tin-oh-KAR-pum)" is the neuter form of the Latin adjective "actinocarpus," meaning "having fruits with rays," and refers to the five carpels that ripen into follicles, spreading into a rosette.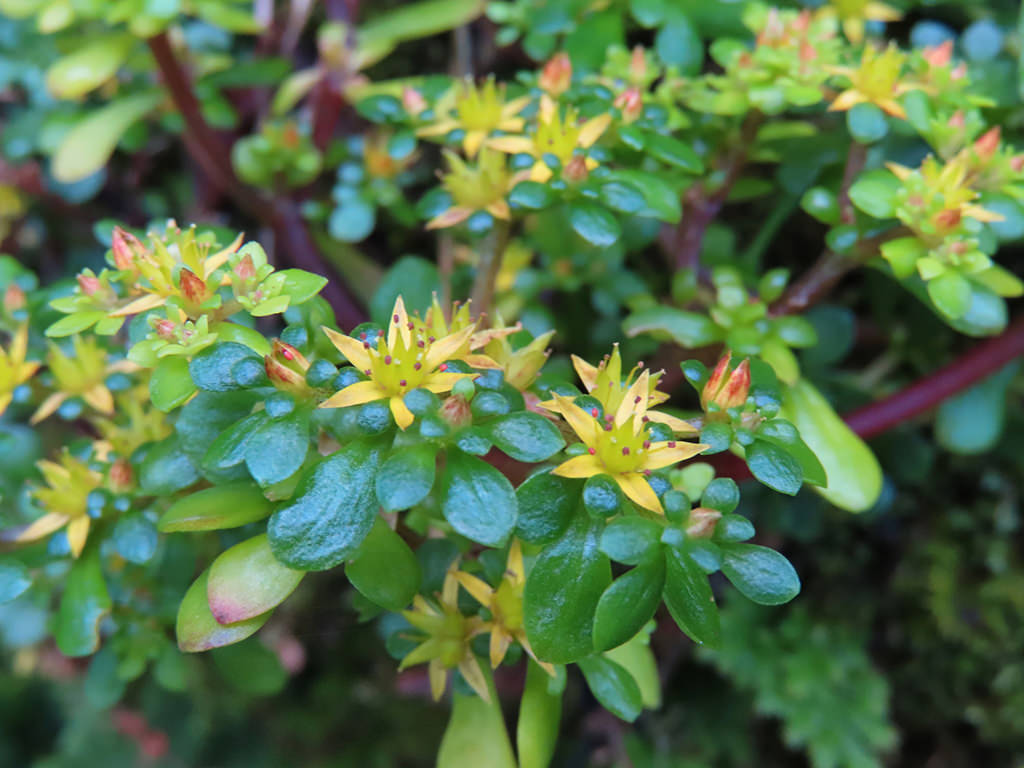 S. actinocarpum is rarely seen in cultivation. It is widely distributed in the mountains across the island of Taiwan at elevations between 1,000 and 8,200 feet (300 and 2,500 m).
This succulent is an annual plant that lives and dies in one growing season. However, it self-propagates by scattering seeds that grow into new plants.
Toxicity of Sedum actinocarpum
S. actinocarpum is not listed as toxic for people but can be mildly toxic to pets and children.
Links
Photo Gallery
Click on a photo to see a larger version.