Scientific Name
Kalanchoe grandiflora Wight & Arn.
Common Name(s)
Large-flowered Kalanchoe, Yellow Kalanchoe
Synonym(s)
Vereia grandiflora
Scientific Classification
Family: Crassulaceae
Subfamily: Sedoideae
Tribe: Kalanchoeae
Genus: Kalanchoe
Origin
This species is native to India. It grows on slopes and rocky ground with poor soil at elevations from 3,280 to 6,560 feet (1,000 to 2,000 m).
Description
Kalanchoe grandiflora is a succulent plant with erect, branched stems bearing bluish-green to blue-violet leaves with an easily removed waxy coating. It grows up to 3.3 feet (1 m) tall. Leaves are fleshy, usually egg-shaped, with the narrower end at the base and margins with small rounded teeth. They are up to 3 inches (7.5 cm) long and 1.4 inches (3.5 cm) wide. The fragrant flowers are yellow to greenish-yellow and appear in terminal many-flowered clusters in late spring and summer. The corolla tube is 4-angled, bottle-shaped, and up to 0.6 inches (1.5 cm) long. Fruits are 4-angled follicles containing many tiny seeds.
Etymology
The specific epithet "grandiflora (gran-dih-FLOR-uh)" is a Latin adjective meaning "having large flowers" and refers to the large, showy flowers of the species.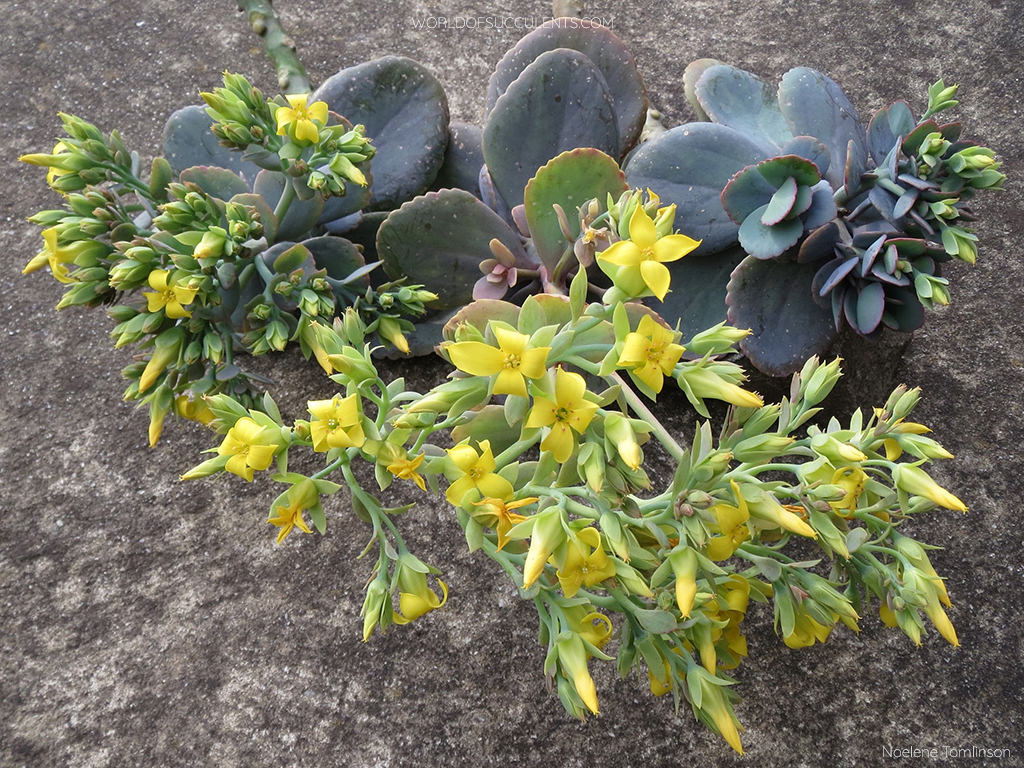 How to Grow and Care for Kalanchoe grandiflora
Light: K. grandiflora grows best in full sun but usually appreciates some part shade in the heat of the day. Indoors, place your plant near a window that receives indirect sunlight. It will stretch if it does not have enough light.
Soil: As with most succulents, K. grandiflora does not like "wet feet" and needs soil that drains well. Commercial potting mixes for succulent plants will work fine.
Temperature: This plant thrives in heat and humidity but is intolerant to frost. K. grandiflora can withstand temperatures as low as 30 °F (-1.1 °C). USDA Plant Hardiness Zones 10a to 11b, 30 to 50 °F (-1.1 to 10 °C).
Watering: From spring to fall, water thoroughly, but let the soil dry between watering as overwatering may cause stem rot. Reduce water during the winter months. Water your plant just enough to prevent the leaves from shriveling.
Fertilizing: K. grandiflora benefits from occasional fertilizing during the growing season. Use a balanced fertilizer diluted to half or quarter strength applied every two weeks.
Repotting: This plant thrives better when it is frequently repotted, as this encourages new growth and health. For optimum growth, repot them every two years in spring. Go up one pot size every time you repot.
Propagation: Propagate by seeds, offsets, or leaf and stem cuttings. Spring is the best time to take leaf cuttings and separate offsets. Sow the seeds in spring or summer.
Learn more at How to Grow and Care for Kalanchoe.
Toxicity of Kalanchoe grandiflora
K. grandiflora is not toxic to people but should be kept away from pets because it may cause vomiting, diarrhea, and heart arrhythmias if consumed.
Links
Photo Gallery
Click on a photo to see a larger version.