Huernia boleana was discovered in 1967 in Bole Valley, north of Addis Abebe but was mistaken for Huernia concinna. It was first described in the Cactus and Succulent Journal in 1975.
Scientific Name
Huernia boleana M.G.Gilbert
Scientific Classification
Family: Apocynaceae
Subfamily: Asclepiadoideae
Tribe: Stapeliae
Genus: Huernia
Description
Huernia boleana is a small succulent that forms clumps of upright, grey-green to purplish stems having deltoid tubercles joined into five angles, often spirally twisted along the stem. The stems are erect to prostrate or pendulous and can grow up to 14 inches (35 cm) long and 0.8 inches (2 cm) thick. The tubercles taper into a soft point, soon wearing away.
In the fall, the plant produces attractive, furry, bell-shaped flowers measuring about 1.2 inches (3 cm) in diameter. The flowers are pale cream with red spots and appear near the base of the stems. However, they emit a faint but unpleasant, excrement-like odor.
Origin
Huernia boleana is native to Ethiopia. It grows on cliffs and grassy slopes in the Bole Valley.
Etymology
The specific epithet "boleana (boh-lee-AY-nuh)" refers to Bole Valley, which is the native habitat of the species.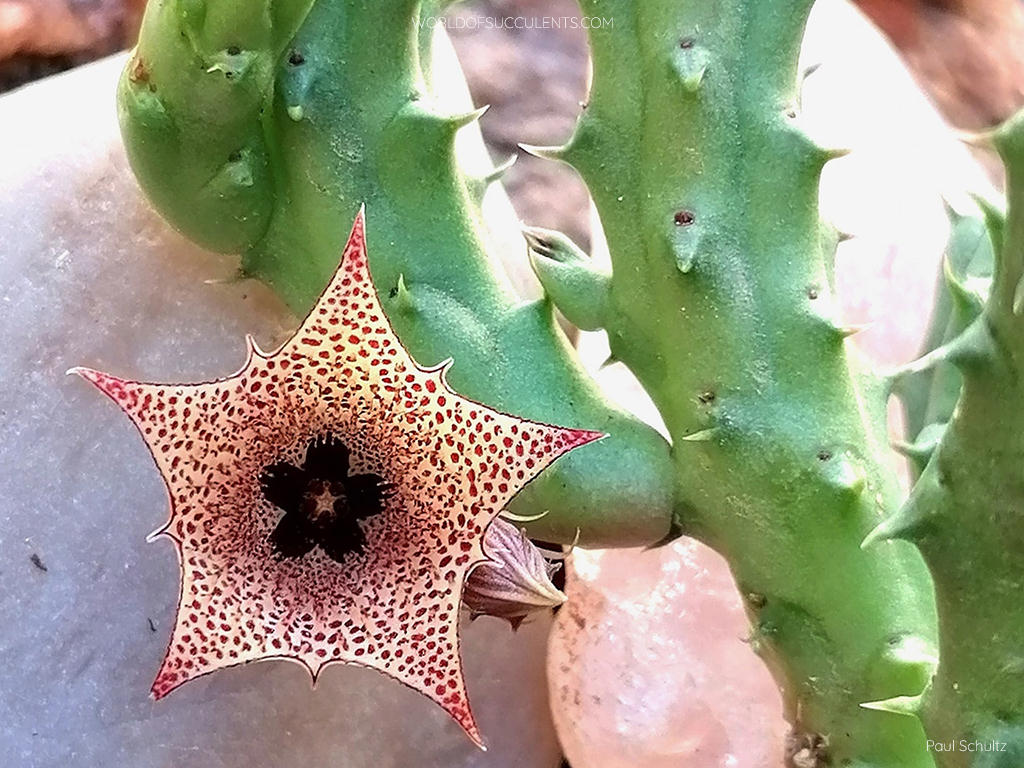 How to Grow and Care for Huernia boleana
Light: Huernia boleana prefers bright light or partial shade during the hottest summer days. Too much sun can cause the stems to develop a protective pigmentation or get sunburned. Too little light leads to weak, thin stems and decreased flower production. When grown indoors, place the plant near the brightest window of your home.
Soil: The right soil is crucial to successful growing. Use a commercial potting soil mix for succulents, or prepare your own with 50 to 70 % mineral grit, such as coarse sand, pumice, or perlite.
Temperature: Huernia boleana thrives in warm outdoor environments with low to moderate humidity but does not like winter cold and should remain fairly dry and warm during its winter dormancy. It grows best in USDA Plant Hardiness Zones 11a to 11b, with average minimum winter temperatures ranging from 40 to 50 °F (4.4 to 10 °C).
Watering: This plant has typical watering needs for a succulent. During the growing season, water it thoroughly and allow the soil to dry between waterings. It goes dormant in winter and needs almost no water, about once a month.
Fertilizing: To keep it healthy and thriving, fertilization during the growing season is a good idea. Feed with water-soluble fertilizer diluted to half the recommended strength.
Repotting: The plant will benefit from fresh potting soil every 2 or 3 years. Repot it in spring, just before the growing season. Pick a container with drainage holes.
Propagation: The best way to propagate Huernia boleana is from stem cuttings. Take cuttings during the growing season to ensure good rooting. It is also easy to start from seeds in spring.
Learn more at How to Grow and Care for Huernia.
Toxicity of Huernia boleana
Huernia boleana has no toxic effects reported, so it is safe around pets and humans.
Links
Photo Gallery
Click on a photo to see a larger version.