Hoya incrassata is one of the best Hoyas for beginners as it requires no special care, grows quickly, and produces lovely flowers.
Scientific Name
Hoya incrassata Warb.
Scientific Classification
Family: Apocynaceae
Subfamily: Asclepiadoideae
Tribe: Marsdenieae
Genus: Hoya
Etymology
The specific epithet "incrassata (in-kras-SAY-tuh)" means "fattened" and probably refers to the thickening at the nodes of the stems.
Origin
Hoya incrassata is native to Philippines. It grows on trees as well as swampy thickets at low elevations.
Description
Hoya incrassata is a climbing plant with long, slender stems that bear shiny green leaves with wavy margins and central folds along the veins. The leaves are ovate to oblong, rounded at the base, and pointed at the apex, measuring up to 5.6 inches (14 cm) long and 2.4 inches (6 cm) wide. They are attached to the stem by petioles about 0.8 inches (2 cm) long and 0.25 inches (0.6 cm) wide.
From spring to fall, the plant produces clusters of up to 60 highly fragrant flowers that last up to 4 days. The flowers are up to 0.6 inches (1.5 cm) in diameter, with reflexed, creamy-yellow corolla, usually beige to maroon at the tips of the lobes, and white corona with a yellow center.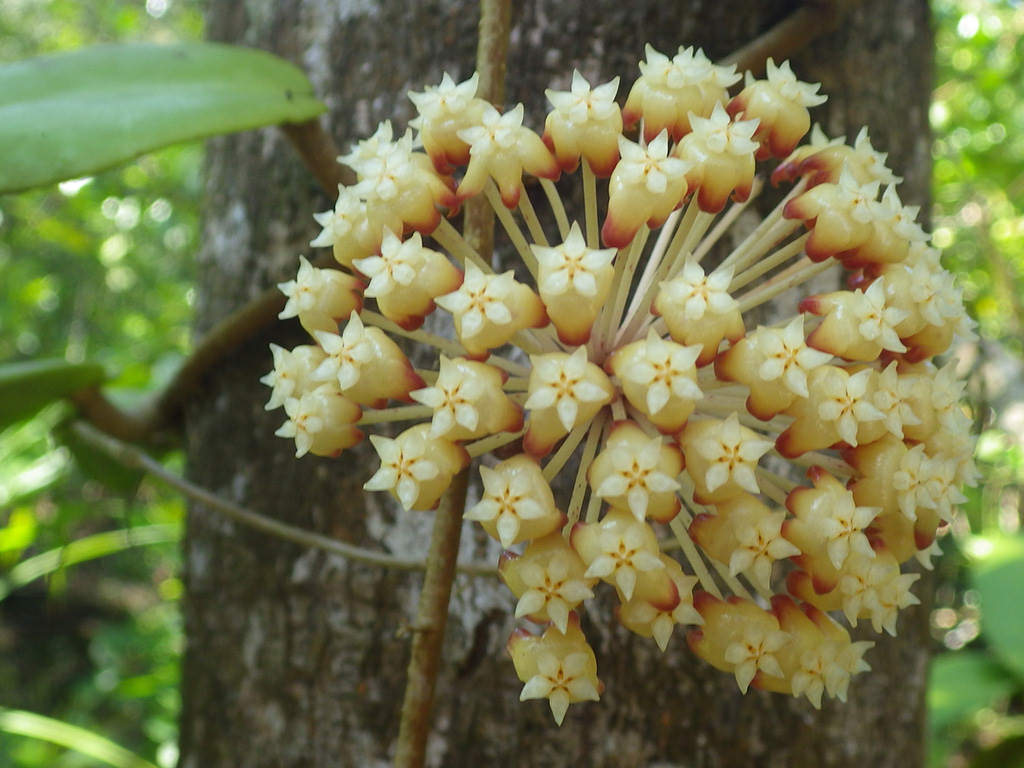 How to Grow and Care for Hoya incrassata
Light: Even if this plant can tolerate lower light levels, it may become weak and leggy if the light is too low, producing fewer leaves and flowers. Therefore, keeping it indoors in bright, indirect sunlight is best.
Soil: Well-draining soil that provides excellent aeration and does not hold too much water is most important for growing a healthy plant.
Temperature: Hoya incrassata thrives in hot and humid climates, so keep it away from drafty windows and doorways during the colder months. It grows best in USDA Plant Hardiness Zones 11a to 11b, with average minimum winter temperatures ranging from 40 to 50 °F (4.4 to 10 °C).
Watering: As this plant is sensitive to overwatering, soak the soil thoroughly during the spring and summer, but allow it to dry out before watering again. Otherwise, you will increase the risk of root rot, and your plant will not be happy. It is relatively dormant during the fall and winter and needs only moderate watering.
Fertilizing: While Hoya incrassata is not a particularly heavy feeder, it can benefit from high-potassium fertilizer at half strength every two weeks during the growing season.
Repotting: As an epiphyte, this plant has shallow root systems and does need a deep container. It also does not require frequent repotting. It actually prefers to be slightly rootbound, so repot it in spring only if it outgrows its container.
Propagation: Although layering is the easiest, using stem cuttings is the most popular method of propagating Hoya incrassata. Using leaf cuttings can be more challenging, while starting it from seeds is the simplest but the most time-consuming method. For best results, take cuttings only when the plant is actively growing and sow the seeds in spring and summer.
Learn more at How to Grow and Care for Hoya.
Toxicity of Hoya incrassata
Hoya incrassata is considered non-toxic, so having it around kids and pets is safe.
Links
Photo Gallery
Click on a photo to see a larger version.