Scientific Name
Crassula umbellata Thunb.
Synonym(s)
Bulliarda alpina, Crassula alpina, Crassula nana, Crassula tenuis, Crassula umbellata var. nana, Petrogeton alpinum, Tillaea umbellata
Scientific Classification
Family: Crassulaceae
Subfamily: Crassuloideae
Genus: Crassula
Origin
This species is native to South Africa (Northern Cape and Western Cape).
Description
Crassula umbellata is a dwarf annual succulent with erect or occasionally spreading branches with small fleshy green to reddish-brown leaves covered with papillae on the upper surface. The branches are up to 1.6 inches (4 cm) long. Leaves are rhombic, triangular, or obovate, about 0.15 inches (0.4 cm) long and as wide as they are long. Flowers are cup-shaped, cream-colored, often tinged red, and have yellow anthers. They appear in spring arranged in small terminal clusters on short pedicels that elongate greatly in fruit.
Etymology
The specific epithet "umbellata (um-bell-AY-tuh)" is the feminine form of the Latin adjective "umbellatus," meaning "having umbels" or "umbellated," and refers to the arrangement of the inflorescence.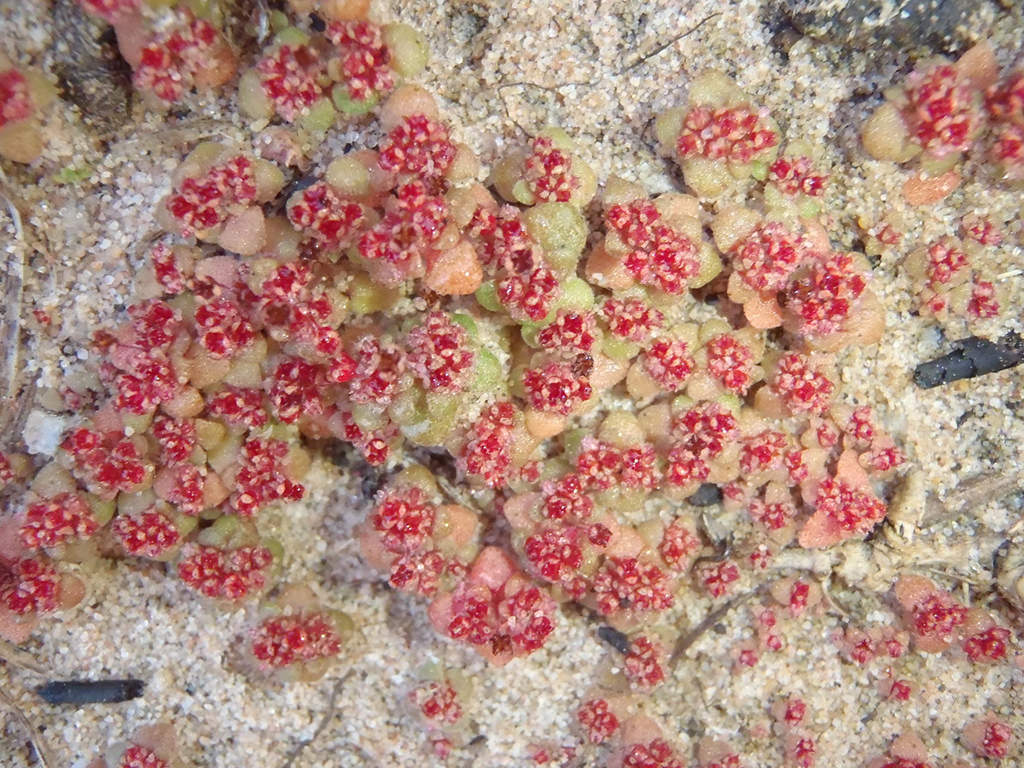 C. umbellata is found from Clanwilliam to Cape Peninsula, mainly on the eastern side of the mountains, where the distribution area extends into the southern Great Karoo and Little Karoo. It grows in sandy soils in dry riverbeds or on open sunny flats and gravelly slopes and rarely in shaded positions.
This succulent is an annual plant that lives and dies in one growing season. However, it self-propagates by scattering seeds that grow into new plants.
Due to the similar specific epithet, C. umbellata is often confused with Crassula umbella, which is a perennial species.
Toxicity of Crassula umbellata
C. umbellata is nontoxic to people and pets.
Links
Photo Gallery
Click on a photo to see a larger version.