Scientific Name
Argyroxiphium sandwicense subsp. macrocephalum (A.Gray) Meyrat
Common Name(s)
Haleakala Silversword, East Maui Silversword
Synonym(s)
Argyroxiphium macrocephalum, Argyroxiphium sandwicense var. macrocephalum, Dubautia sandwicensis subsp. macrocephala
Scientific Classification
Family: Asteraceae
Subfamily: Asteroideae
Tribe: Madieae
Genus: Argyroxiphium
Description
Argyroxiphium sandwicense subsp. macrocephalum is a beautiful, single-stemmed plant that forms distinctive, spherical rosettes of numerous sword-like, rigid, and succulent leaves covered with silver hairs. The leaves are usually three-angled in cross-section, up to 16 inches (10 cm) long and 0.6 inches (1.5 cm) wide.
This subspecies has a more elliptical-looking inflorescence than Argyroxiphium sandwicense subsp. sandwicense, which is thicker.
A stunning, up to 10 feet (3 m) tall flower spike, with up to 600 heads of densely packed pale red to maroon flowers, appears after 15 to 50 years. Each flower head has 11 to 42 petal-like ray florets and 50 to 600 tiny disk florets. Fruits are up to 0.6 inches (1.5 cm) long achenes. The plant is monocarpic, which means the rosette dies after the seeds ripen.
Origin
Argyroxiphium sandwicense subsp. macrocephalum is endemic to Hawaii. It occurs at elevations between 7,000 and 10,000 feet (2,130 and 3,050 m) in the Haleakala National Park on the island of Maui.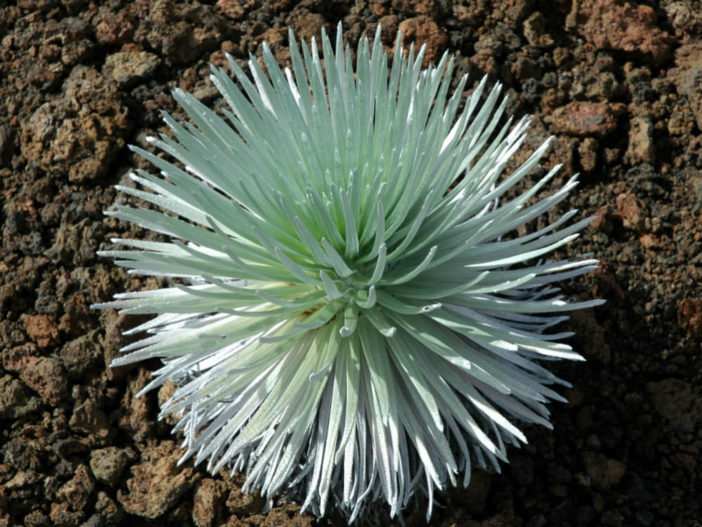 Hardiness
USDA hardiness zone 10a to 10b: from 30 °F (−1.1 °C) to 40 °F (+4.4 °C).
How to Grow and Care
The Silversword alliance comprises about 50 species of plants belonging to three genera endemic to the Hawaiian islands. They get their common name from the visually impressive Silversword.
These plants only flower once in their lifetime. The silver rosettes grow for several years before the inflorescence ascends skywards. Flowers appear from mid-June to November, and the whole plant dies after the seeds have been shed. These exotic-looking plants are ideally suited to their harsh environment. The silver leaves reflect the sun's rays while their shape prevents moisture loss and protects the more delicate center of the plant from predation.
These attractive plants were previously collected as curiosities. Climbers on the mountains would dig them up to prove they had reached the summit. Populations were further depleted by browsing and trampling by goats and cattle in the area. Today Argyroxiphium sandwicense is restricted to a single population of as few as 30 plants in the Wailuku River basin on Mauna Kea in Hawaii. These plants are at risk from the small size and range of their population, which is vulnerable to any chance event.
The Hawai'i Silversword is protected in Hawaii.
Links
Photo Gallery
Click on a photo to see a larger version.